Advertisement

The first phase of the Uttar Pradesh assembly elections passed off "peacefully" with over 64 per cent polling recorded, bettering the record of the past two state polls….reports Asian Lite News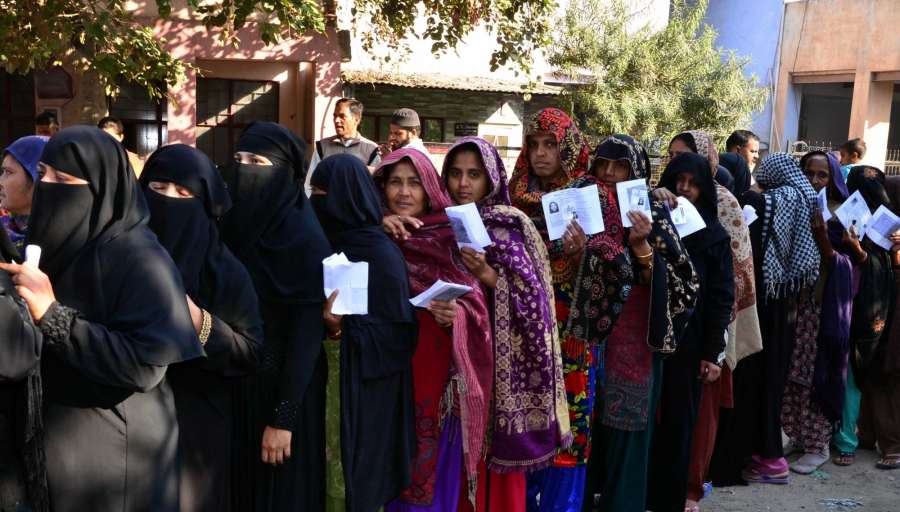 "Participation (of voters) has been exemplary," Deputy Election Commissioner Vijay Dev told reporters in New Delhi.
Voting continued even after 5 p.m. at some polling stations since voters who had queued up late were allowed to exercise their franchise.
He said the elections spread across 15 districts, 73 assembly constituencies, involved over 2.6 crore voters, 839 candidates, including 73 women candidates.
He said there was no major law and order problem, and EVMs which malfunctioned at few polling booths, were replaced within no time.
"Elaborate security arrangements were made to ensure free and fair elections," he said, adding that over two lakh security personnel were deployed at various locations across the 15 districts.
Dev said that nearly three lakh "troublemakers" were bound down.
He said 3,888 cameras were also placed at various locations to keep watch on every activity in poll bound areas.
The Deputy Election Commissioner also said that Rs 19.56 lakh in cash, 4.4 lakh litre of alcohol worth Rs 4.4 lakh and gold and silver worth Rs 14 crore were seized before the
elections.
Asked about the call for election boycott at a few places, Dev said that things were sorted out at six out of seven places where poll boycott call was given by the public dissatisfied for various reasons.
He, however, expressed satisfaction on the overall exercise of polling and thanked and congratulated all political parties and general public for their "cooperation".
"The first phase (of elections) has set the tone for the next six phases," he said
The polling percentage in the region has bettered the past two elections of 2007 and 2012, an election official in Lucknow told IANS based on reports gathered from all polling stations. The average polling is over 60 per cent in western UP seats.
According to Chief Electoral Officer of Uttar Pradesh, T. Venkatesh, the total voter turnout was 64.22 per cent with Shamli recording highest 67.12 per cent.
While in Agra, the voter turnout was 63.88 per cent, in Aligarh it was 64.66 per cent, Muzaffarnagar 65.50 per cent, Hapur 65.67 per cent, Firozabad 63.59 per cent, Mathura 65.39 per cent, Noida 59.17 per cent, Ghaziabad 58.10 per cent, Bulandshahr 64.65 per cent, Etah 64.73 per cent, Kasganj 64.83 per cent, Meerut 66 per cent, Hatharas 64.10 per cent and Baghpat polled 64.99 per cent.
The polling percentage in Mathura improved by eight per cent over the 2012 state assembly elections.
Total vote percentage in the 2007 state assembly polls was 45.96 per cent and 59.40 per cent in 2012.
At a few places, polling was disrupted or delayed due to technical snags in EVMs, said an official, adding that by and large voting was smooth and steady at most places.
Sporadic incidents of poll violence were also reported from some places. Clashes between activists of the ruling Samajwadi Party and the Bahujan Samaj Party were reported from two places.
The largest constituency in this phase, as per population, is Sahibabad in Ghaziabad and the smallest is Jalesar in Etah.
There were 26,822 polling centres in this phase of polling. Among the candidates in the fray was Pankaj Singh, the son of Union Home Minister Rajnath Singh.
The seven-phased elections in Uttar Pradesh are from February 11 to March 8.