Advertisement

Proving wrong fears of a hung assembly, the BJP was set to sweep back to power in Uttar Pradesh after 15 long years, giving Prime Minister Narendra Modi his biggest victory after the 2014 Lok Sabha polls….reports Asian Lite News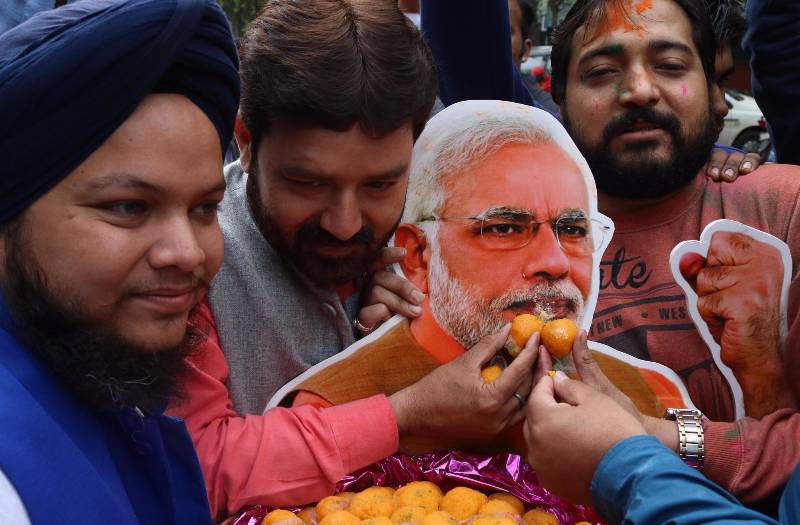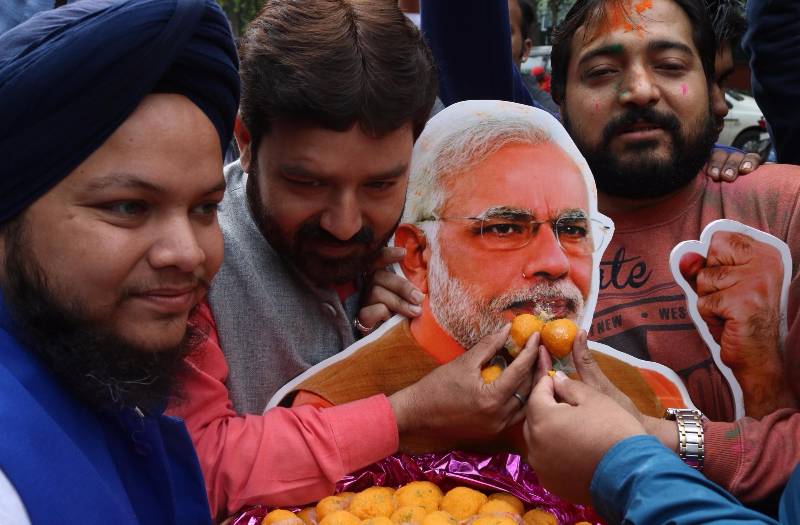 Powered by an aggressive campaign spearheaded by Modi, BJP candidates were on the road to victory in a whopping 306 of the 403 constituencies as officials counted the millions of votes polled in the staggered election. The imminent victory triggered widespread celebrations all across the country's most populous state as well as at the BJP headquarters in Delhi.
As the Samajwadi Party, the Congress and the Bahujan Samaj Party (BSP) licked their wounds, Bharatiya Janata Party leader and central Law Minister Ravi Shankar Prasad called the win in UP bigger than the 2014 victory.
"It is a tectonic shift in Indian politics," he said. "UP is a laboratory of India. Demonetisation has worked and we are proud of Modi's leadership. It is a bigger victory than the 2014 win in the Lok Sabha election."
BJP candidates led in all major cities in particular, including in five of the eight seats in Lucknow, eight of the 10 seats in Kanpur, nine of the 12 seats in Allahabad and seven of the eight seats in Varanasi, Modi's Lok Sabha constituency.
Even in Amethi, Congress Vice President Rahul Gandhi's Lok Sabha seat, the BJP's Garima Singh had forged ahead.
After more than three hours of vote count that began at 8 a.m., the Samajwadi-Congress alliance was in the lead in 71 constituencies while the BSP was gasping in just 17 seats.
There was no immediate reaction from Chief Minister Akhilesh Yadav, who is set to resign, but Congress leaders expressed shock.
"It is a monumental setback. We are disappointed with Uttar Pradesh," Congress spokesman Sanjay Jha said. Added Congress leader Sandeep Dikshit, whose mother and former Delhi Chief Minister Sheila Dikshit was originally to be the Congress Chief Ministerial candidate: "Our party is looking confused."
In contrast, BJP leaders were jubilant.
BJP MP Yogi Adityanath said: "Good work done by the Modi government and (BJP President) Amit Shah's strategy has paid dividends.
"People have rejected the politics of appeasement and discrimination," he said, in reference to the poor showing by the Samajwadi Party and the Congress as well as the Mayawati-led BSP.
Election officials said the BJP began taking strong leads right from the start of the counting and it became clear within an hour that it was set to comfortably take power in Uttar Pradesh.
BJP spokesperson Sambit Patra added: "The victory goes to Modi for his hard work, for his vision, for his pro-poor agenda. He is the first Prime Minister in contemporary times who really worked for the poor."
Said Minister of State in the PMO Jitendra Singh: "For the first time we are seeing people rising above caste in Uttar Pradesh. The voters have moved a step ahead of politicians."