Advertisement

Celebrations at BJP central office over Gujarat, Himachal results….reports Asian Lite News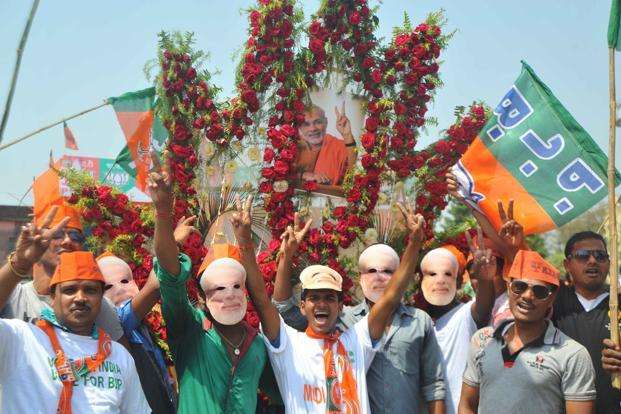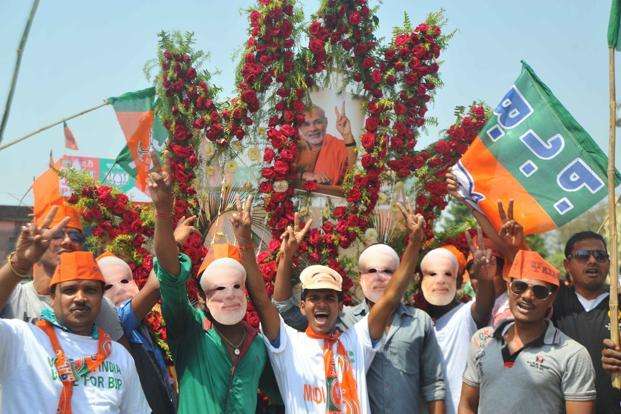 Celebrations began at the BJP headquarters with workers dancing to the beat of drums, bursting firecrackers and shouting slogans hailing Prime Minister Narendra Modi, as the party was set to win the Gujarat and Himachal Pradesh elections.
BJP workers reached the party's central office at Ashoka Road in groups from early afternoon after the election trends clearly showed that the party is set to retain Gujarat for the fifth time, and is poised to wrest Himachal Pradesh from the Congress.
The party had made arrangements for coverage of the results and had erected a tent for mediapersons to take reactions of party leaders.
Uttar Pradesh Chief Minister Yogi Adityanath said the BJP's imminent victory in Himachal Pradesh and Gujarat was a lesson for the Congress and those who had criticised the "Gujarat model" of development.
Taking a dig at Congress President Rahul Gandhi, Adityanath said he had predicted that change of leadership in the Congress "will be a good sign for the BJP".
"People all over the world have appreciated the Gujarat model but Congress has raised questions. This is a lesson for the Congress and the opposition parties," Adityanath said.
Referring to Himachal Pradesh, Adityanath said the Congress has not been able to save its fort.
He said people have rejected the "divisive politics" of Congress. "The win is due to the dynamic leadership of the BJP and hard work of BJP workers."
"The Winner is the King. It is a matter of happiness for us. This is the victory of development," Information and Broadcasting Minister Smriti Irani said as election trends and results showed the BJP poised to win both states.
Asked about the Congress bettering its performance and giving a tough fight to the BJP in Prime Minister Narendra Modi's home state, the Minister suggested that the victory margin did not matter.
"Jo jeeta wohi sikandar. It is victory of every (BJP) booth worker's hard work and the people who trusted development."
Defence Minister Nirmala Sitharaman described the election results as an "undoubtedly" major victory for the Bharatiya Janata Party.
She told reporters that it was a "victory for all — right from the booth level to Prime Minister Narendra Modi — as voters have recognised who could deliver".
"'Sabka saath, sabka vikas' (Collective Efforts, Inclusive Growth), has ultimately won," she said.
Sitharaman's remarks came soon after trends showed the ruling BJP was set to retain power in Gujarat, while the Congress again settled for second place but with an improved showing.
The BJP also took the lead in Himachal Pradesh, which was earlier ruled by the Congress.