Advertisement

Natarajan Chandrasekaran, 53, who has spent some 30 years in the Tata Group, will be the new Executive Chairman of Tata Sons — the first non-Parsi to head the $103-billion global empire with a 148-year history, it was announced…..reports Asian Lite News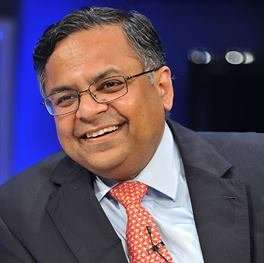 "Chandrasekaran has demonstrated exemplary leadership as the Chief Executive Officer and Managing Director of Tata Consultancy Services," said a statement from Tata Sons, adding that he will take over the holding company's reins on February 21.
"We believe he will now inspire the entire Tata Group to realise its potential acting as leaders in their respective businesses, always in keeping with our value system and ethics and adhering with the practices of the Tata Group which have stood it in good stead," the statement added.
On his part, Chandrasekaran said that the group is at an inflection point and that he is aware of the huge responsibilities that accompany his new role.
"At the Tata Group, we are at an inflection point. I am aware that this role comes with huge responsibilities. It will be my endeavour to help progress the group with the ethos, ethics and values that the Tata Group has been built on," Chandrasekaran said.
Considered an "insider", Chandrasekaran had already been inducted into the board of Tata Sons in October last year as additional director, a day after Cyrus Mistry was unceremoniously removed as chairman.
Just a few hours before the announcement, the group veteran had reported a better-than-expected third quarter results for Tata Consultancy Services, one of the highest revenue earners for the group.
An avid photographer and a passionate marathon runner, "Chandra" — as Chandrasekaran is called by his peers — has been associated with TCS since 1987. Since then, he has seen TCS revenues grow to $16.5 billion, with 371,000 consultants and a market cap of over $70 billion.
Chandrasekaran succeeds Cyrus Mistry, who was removed as Tata Sons Chairman on October 24 and Ratan Tata was named the Interim Chairman. A group selection committee was constituted after Mistry's removal with the mandate to recommend a new chairman within four months.
The committee, formed as per the article of association, comprised Ratan Tata, industrialist Venu Srinivasan, technocrat Amit Chandra, former Indian Ambassador to the US Ronen Sen and and Lord Kumar Bhattacharyya.
Tata Sons said Chandrasekaran was the committee's unanimous choice.
A Master in Computer Applications from Regional Engineering College – Trichy in Tamil Nadu, the newly named Tata Sons chair was the chairman of Nasscom, the apex trade body for IT firms in India in 2012-13. He has also been member of several task forces of the Indian government.
The TCS website said he has completed several marathons around the world, including Amsterdam, Boston, Chicago, Berlin, Mumbai, New York, Prague, Stockholm, Salzburg and Tokyo. He lives in Mumbai, with his wife Lalitha and son Pranav.
"Chandra is a great choice," said N.R. Narayan Murthy, the Infosys co-founder. "He is all the time learning with people, he is all the time sharing with people. I have no doubt the entire industry will be celebrating today," Murthy added.
Terming Chandrasekharan's elevation as an "outstanding choice", Reliance Group Chairman Anil Ambani said: "Chandra, as he is fondly referred to, brings to the table an unparalleled track record of value creation and visionary leadership at TCS, the Kohinoor in the Tata Crown."
Ambani said: "Having run many marathons with him, I have the highest regard for Chandra's spirit of endurance, grit, determination and focus. He is, as they say, the complete package!"
Banker Deepak Parekh, who has been on the board of Tata Group company Indian Hotels, said: "Excellent choice. He deserves it. I've known him for several years and he is level headed, dynamic and young."
Parekh said the challenges before Chandrasekaran will be the UK operations ot Tata Steel and Tata Telecom.
Soon after the announcement on Chandrasekaran's appointement, TCS appointed Rajesh Gopinathan as its new Chief Executive and N.G. Subramaniam as Chief Operating Officer.
The Tata Group, with some 100 companies in its stable, has interests across industry — from steel, auto and power to IT services and hospitality. The group companies collectively employ over 660,000 persons.
The group boasts of 29 publicly-listed enterprises with a combined market capitalisation of about $116.41 billion (as on March 31, 2016).
Apart from handling the enormous industrial conglomerate, Chandrasekharan will also have to deal with the fierce corporate battle going on between the Tata Board and Mistry.
Currently, the group is embroiled in a legal tussle with Mistry for ousting him.
On Wednesday, a contempt of court petition was filed against Tata Sons for calling an Extra-ordinary General Meeting (EGM) to remove Mistry as a Director on its Board.
The petition with the National Company Law Tribunal (NCLT), Mumbai, was filed against the company and its directors by Mistry's investment firms.
Mistry still remains a Director on the board of the holding arm of the $100 billion-plus group.
Tata Trusts hold 66 per cent stake in the holding company of the Tata Group, whereas Mistry's family holds over 18 per cent interest.
The petitioners have sought an injunction against the proposed EGM which is said to have been called on February 6, 2017.