Advertisement

At least 43 people were killed and 100 injured in two separate bomb attacks carried out by the Islamic State on Coptic churches in Egypt as the Christian faithful observed Palm Sunday, one of the most important days on the religion's calendar….reports Asian Lite News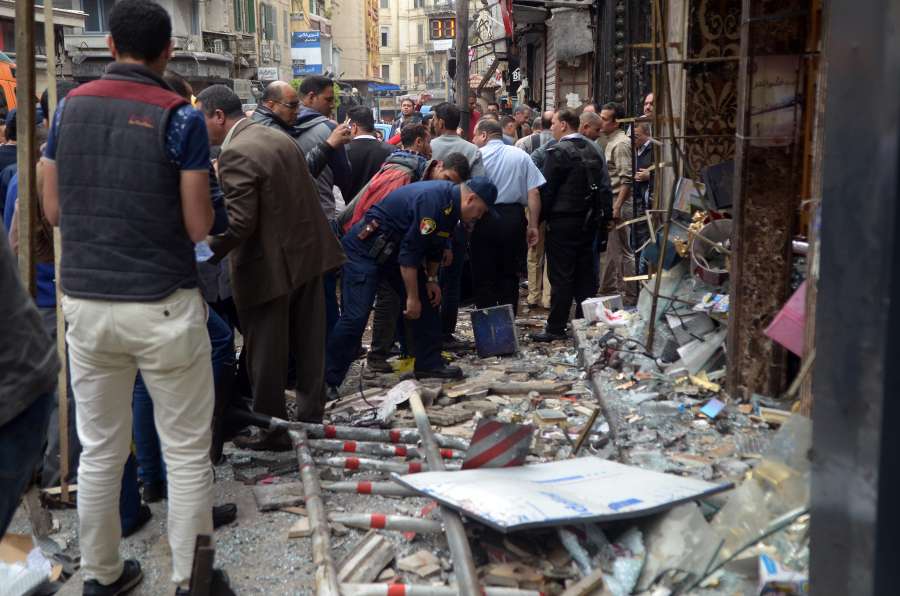 The first explosion, which left 27 dead and 78 injured, ripped through a Palm Sunday service at Mar Girgis (St. George's) Coptic church in Tanta, a city located 120 km from Cairo, EFE news reported.
The explosive device was planted under a seat in the church and was detonated in the main prayer hall.
A short time later, a suicide bomb attack outside Saint Mark's Coptic Orthodox Cathedral in Alexandria killed 16 and injured 41 people, according to a Health Ministry statement.
In a brief statement released through official news agency Amaq, the Islamic State claimed that the attack had been launched by a "security unit belonging to the Islamic State".
Egyptian Prime Minister Sherif Ismail condemned the attacks on private television channel On TV, adding that the government was determined to end terrorism in the country.
"This is an impious terrorist act, but we will eradicate terrorism from Egypt and we are determined to put an end to terrorist groups," EFE news quoted Ismail as saying.
Copts, who make up around 15 per cent of Egypt's population, were celebrating Palm Sunday, which marks the start of the Holy Week for Christians.
This attack comes 20 days before the visit of Pope Francis, who is set to travel to Egypt on April 28.
The Pope condemned the attack and publicly prayed for converting the hearts of those who "sow terror, violence and death".
The pontiff was addressing the faithful during the traditional Palm Sunday mass at St. Peter's Square in Vatican City when he was notified of the attack.
He offered his condolences to the victims' families, to those injured and to all Egyptians.
Over the past few years, Egypt is struggling to combat a terrorist wave that killed hundreds of policemen and soldiers since the military removed former Islamist President Mohamed Morsi in July 2013 and blacklisted his Muslim Brotherhood group as "terrorist organisation".
The terror attacks, mostly claimed by a Sinai-based group loyal to the IS, has recently been targeting Egypt's Christian minority and a previous church blast in Cairo in December 2016 left at least 28 worshippers dead, mostly women and children.
Meanwhile, the Egyptian security forces killed hundreds of terrorists and arrested a similar number of suspects as part of the country's "anti-terror war" declared by former army chief and current President Abdel-Fattah al-Sisi following Morsi's ouster