Advertisement

Prime Minister Narendra Modi resumed his mega-show in Varanasi culminating in a rally where he hit out against the opposition while singing paeans to the historic city of Banaras and promising to turn it around into a modern world class metropolis….reports Asian Lite News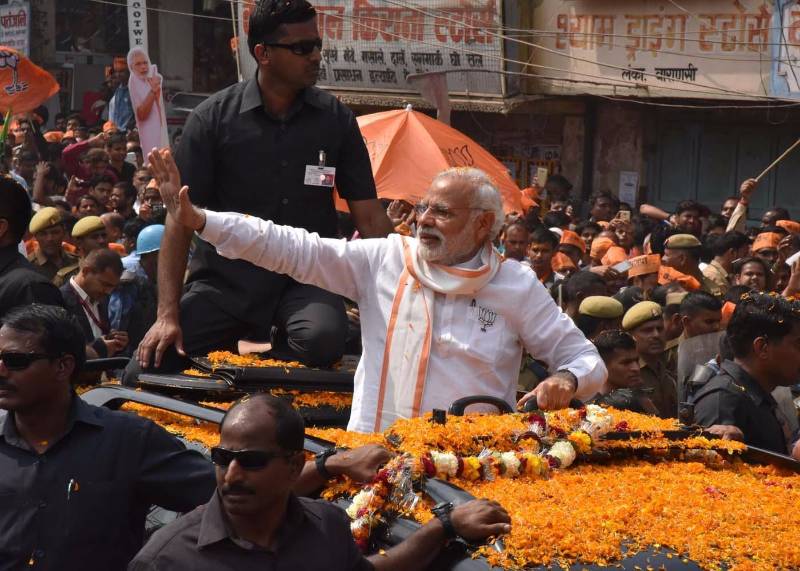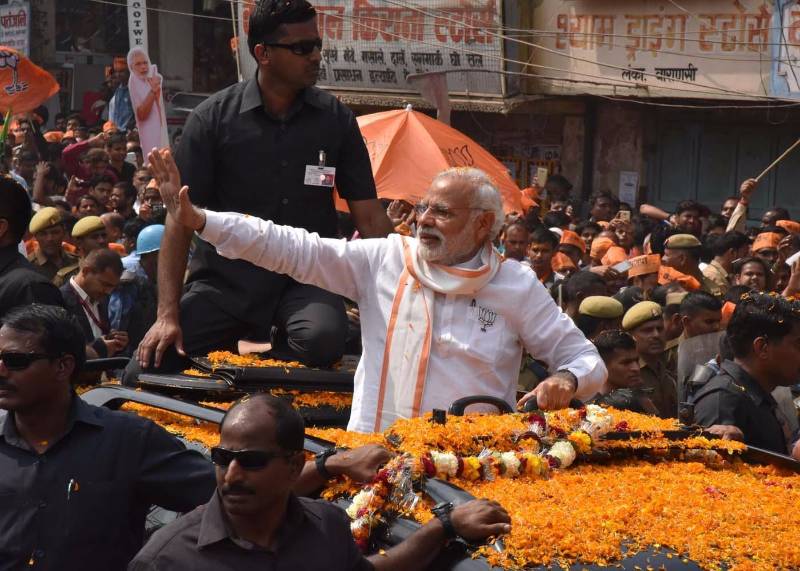 His resumed five-km road show began at Pandeypur Square and wound its way through Chaukaghat, Teliabagh, Maldahiya and Patel Chowk to culminate at the Mahatma Gandhi Kashi Vidyapith, where Modi addressed a huge gathering.
"Earlier governments did only tidbits (of development work) for Banaras (the older name for Varanasi) with an eye on short-term electoral gains. But these tidbits won't help Banaras. The city needs a complete, modern makeover and it is my dream to turn this city into a modern world-class city," he said.
He said that if earlier governments had given proper attention, Kashi (another older name for Varanasi) could have become an attraction for the world.
"People would have yearned to visit Banaras at least once," he said.
Singing paeans to the city, Modi said Banaras is older than history and traditions, proverbs and maxims.
"Banaras is not a city, it is a living heritage. Every Indian considers Banaras as his own," he said.
Targeting political rivals Akhilesh Yadav and Rahul Gandhi, Prime Minister Narendra Modi on Sunday termed the two "galua", which he said in the local dialect meant those born with a silver spoon.
"The (Uttar Pradesh) Chief Minister (Akhilesh Yadav) and his new-found friend (Rahul Gandhi) are galua. They have got everything in inheritance, they are born with a silver spoon," Modi said.
"These people born in affluence are weak… they can't take tough decisions because they can't take pains. Only the one who has come from the grass root can take tough decisions," he said.
Modi, who began his speech by chanting "Bharat Mata ki Jai" and "Har Har Mahadev", cited the surgical strikes and demonetisation to underscore that the government should be capable of taking tough decisions.
He also took a jibe at the opposition, saying their motto is "kuchh ka sath, kuchh ka vikas" (selective association, selective development).
"There is fertile land and hard working people but there is no good government," he said.
The Prime Minister said the central government is ready to provide required funds for development of the region but the state government must be able to properly account for the expenses.
Modi said Uttar Pradesh would become the "number one" state in the country only after Poorvanchal is developed.
He said that electricity is something required by every household in this modern age but the Samajwadi Party government refused to take electricity from the Centre.
Earlier, the Prime Minister first flew from the airport to the Police Lines in a special Indian Air Force chopper. He then made his way in a bullet-proof car in a convoy to the Pandeypur area, from where the road show commenced.
Thousands of supporters thronged the route along which Modi went. Carrying BJP flags and shouting 'Jai Shri Ram' and 'Har Har Modi, Ghar Ghar Modi', they waved at Modi, who acknowledged their greetings and waved back at them.
On Monday, Modi will address a public rally in Rohaniya before returning to New Delhi late in the evening.
Polling in Varanasi, which is also Modi's parliamentary constituency, and some surrounding districts will be held in the seventh and last phase of the Uttar Pradesh assembly elections on March 8.