Advertisement

It was a successful day on Saturday for Tamil Nadu's acting Chief Minister O.Panneerselvam's camp with three sitting Lok Sabha MPs, one state minister, a senior party leader and a former Finance Minister joining him….reports Asian Lite News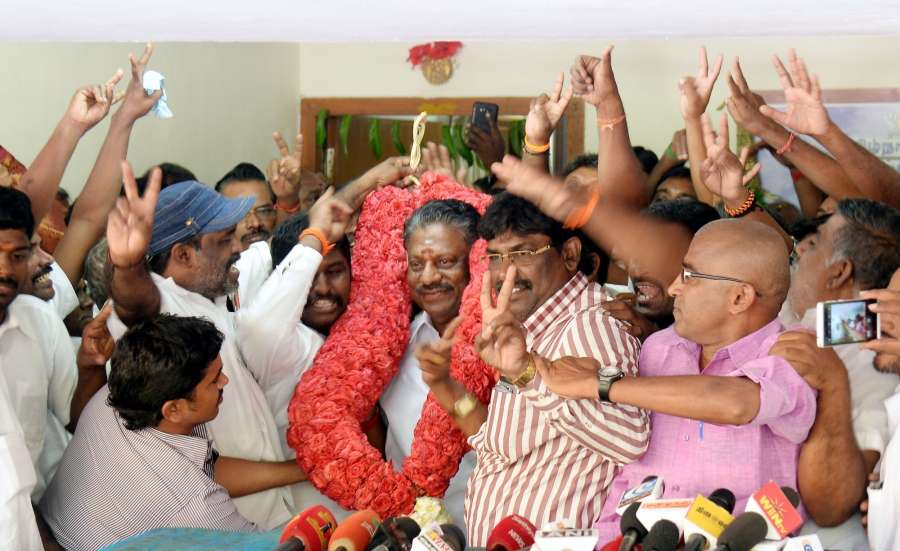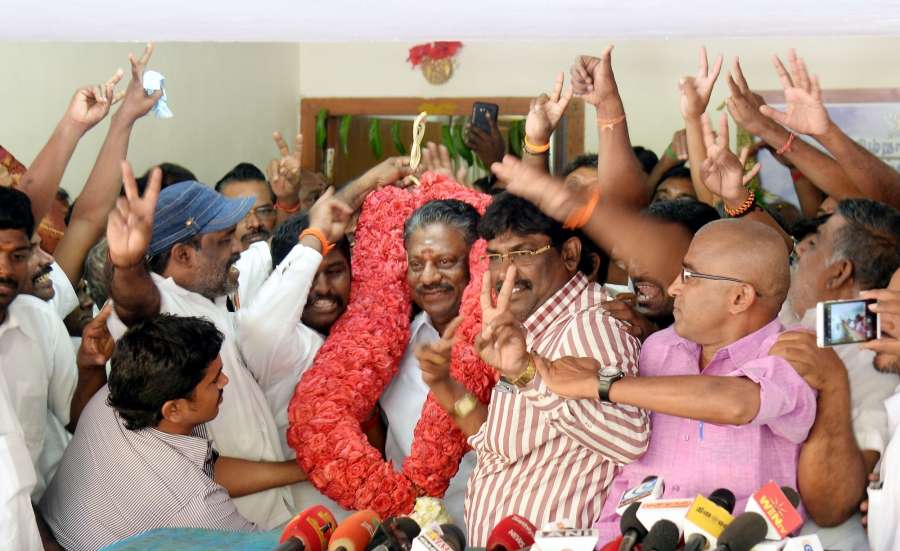 On Saturday, three sitting Lok Sabha members – Sathyabama representing Tirupur, Ashok Kumar representing Krishnagiri constituency and Sundaram representing Namakkal – joined his camp.
Tamil Nadu School Education Minister K. Pandiarajan, former Minister and AIADMK spokesperson C. Ponnaiyan jumped on to Panneerselvam's ship, jolting party General Secretary V.K.Sasikala's camp.
Till Friday, Sathyabama, Pandiarajan, Ponnaiyan, Ashok Kumar and Sundaram were with Sasikala and were defending her in a staunch manner.
Sitting Rajya Sabha member V. Maitreyan was the first MP to join Panneerselvam's group.
The five new joinees to Panneerselvam's camp came a day after AIADMK spokesperson Vaigaichelvan said people joining him are "beyond their expiry date".
Speaking to reporters, Ashok Kumar said other AIADMK MPs will also start joining hands with the acting Chief Minister.
The AIADMK has 37 members in the Lok Sabha.
Panneerselvam revolted against Sasikala on Tuesday night alleging that he was forced to resign as Chief Minister to pave the way for her to occupy that chair.
As of now seven legislators (including Panneerselvam), three sitting MPs – two Lok Sabha and one Rajya Sabha, several office bearers, old timers, former legislators and most of the party's grass root workers are in support of Panneerselvam.
According to Maitreyan, more ministers and legislators are likely to join the Panneerselvam camp.
AIADMK General Secretary V.K. Sasikala on Saturday alleged that the delay in her being sworn-in as Chief Minister of Tamil Nadu is mainly to break the party.
"I think the delay (in swearing in) is to break the party," she told reporters here after meeting the legislators supporting her at a beach resort near her.
According to her, till Saturday they had waited for Governor C. Vidyasagar Rao's decision.
"Tomorrow we will fight in a different manner," Sasikala said.
Earlier in the day, speaking to the party cadres Sasikala said she believes in democracy and justice and maintaining patience.
"Only to some extent we can be patient. After that we all together would do what needs to be done," she said.
She said the AIADMK party is like an iron fort and cannot be shaken by anybody.