Advertisement

With uncertainty prevailing on Tamil Nadu Governor C. Vidyasagar Rao calling her to form the next government and more of her supporters switching loyalties, AIADMK General Secretary V.K. Sasikala met party legislators housed in a beach resort….reports Asian Lite News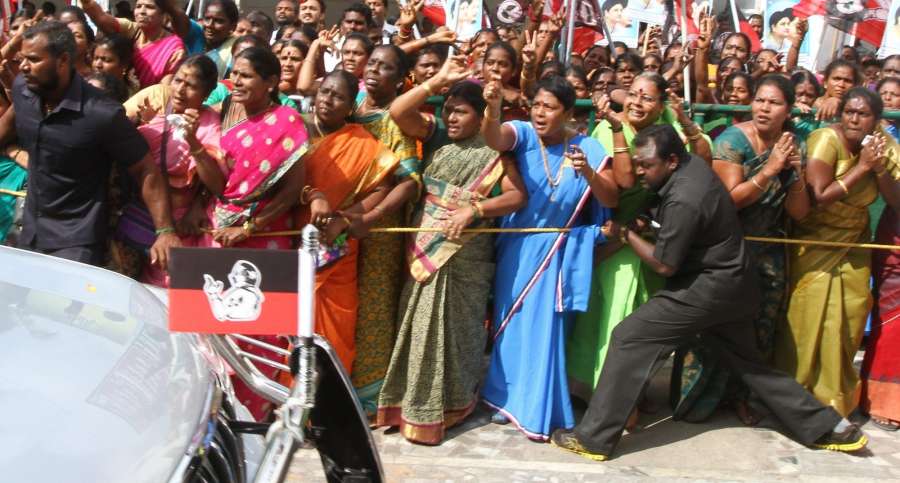 Starting out of the Poes Garden residence of late Chief Minister J. Jayalalithaa, who died on December 5, Sasikala reached the beach resort and interacted with the partly legislators who have been kept there for the past several days.
Earlier in the day Sasikala sought an appointment with Governor Rao along with all legislators supporting her.
In a letter to Rao, copies of which were issued to the media, Sasikala said acting Chief Minister O. Panneerselvam has resigned from his post and the same was accepted by the Governor a week ago.
"…taking the urgency of the situation at hand, I would like to seek an appointment with Your Excellency by today with all MLAs (Members of Legislative Assembly) who extended their support to me regarding further course of action to form the Government," Sasikala told Rao.
"I believe Your Excellency will act immediately to save the Sovereignty of the Constitution, democracy and the interest of the State," the letter notes.
With the Governor taking his time to decide on the next Chief Minister, Sasikala, speaking to party cadres earlier, said she believes in democracy and justice and maintaining patience.
"Only to some extent we can be patient. After that we all together would do what needs to be done," she said.
Her remarks came after she sought an appointment with Governor Rao along with all legislators supporting her.
Meanwhile, a large contingent of police force have been deployed outside the Raj Bhavan.
Hours before Sasikala reaching the beach resort , K.C. Palaniswamy, a former party MP said the AIADMK faction led by acting Chief Minister O. Panneerselvam should soon announce the election schedule to elect General Secretary for the party.
"It is not sufficient to declare V.K. Sasikala's election as party General Secretary by the general council invalid. The anti-Sasikala camp has to come out with an advertisement announcing the election schedule for electing the new General Secretary," K.C. Palaniswamy  told .
AIADMK's former Presidium Chairman E. Madhusudanan on Friday said he had sent a petition to the Election Commission not to recognise V.K. Sasikala as General Secretary of Tamil Nadu's ruling party.
Speaking to reporters, Madhusudanan, now in acting Chief Minister O. Panneerselvam's camp, said: "As per the party by-law, a person can become General Secretary of AIADMK only if he/she is a member for a continuous period of five years."
Madhusudanan said Sasikala was not a party member for a continuous five years and hence she was not qualified to be the General Secretary.
In December 2016, after then Chief Minister J. Jayalalithaa's death, Sasikala was elected the General Secretary at a General Council meeting of the AIADMK.
Incidentally Palaniswamy in January had sent his petition to Election Commission not to recognise Sasikala as AIADMK's General Secretary and declare her election as void.
"If Panneerselvam or Madhusudanan make an announcement for the election of General Secretary then the issue would certainly turn in his favour as the cadres are against Sasikala," Palaniswamy said.
He said once the election schedule is announced then the legislators supporting Sasikala housed in a beach resort would rush back to their respective constituencies.