Advertisement

The value of digital transactions nationwide declined marginally (1.5 per cent) to Rs 92.6 lakh crore ($1.4 trillion) in February 2017 from Rs 94 lakh crore in November 2016 ($1.42 trillion), according to representative data (provisional) on electronic payments released by the Reserve Bank of India (RBI)….writes Abhishek Waghmare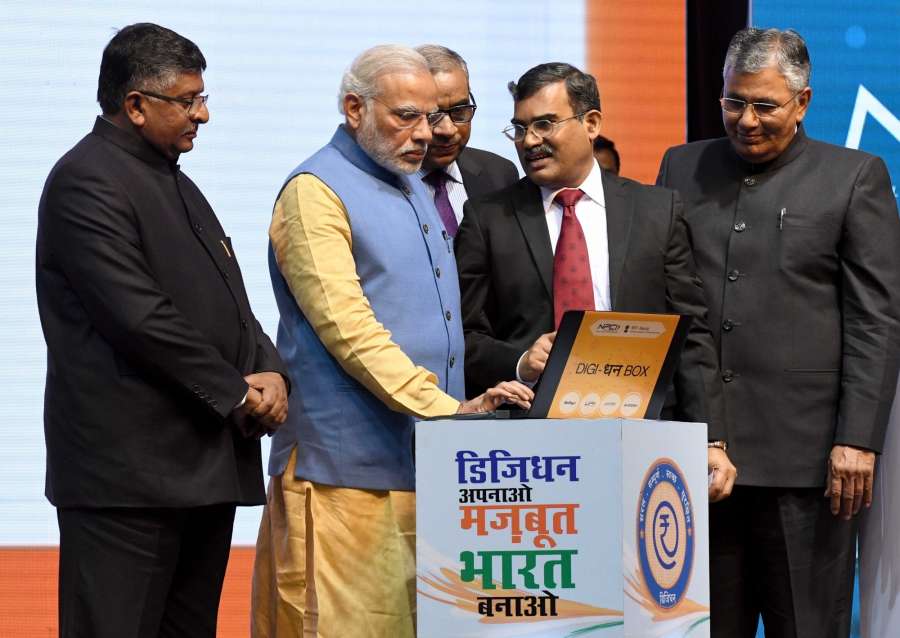 The data do not cover all transactions across all banks. But, card payments data for four major banks, mobile banking figures for five banks and prepaid payment instruments (PPI, meaning mobile payment gateways such as PayTM and FreeCharge) data for eight non-bank issuers have been considered as representative for analysing trends in payments.
Digital transactions (volume) had increased 42 per cent from 672 million in November 2016 to 958 million in December 2016 but have since declined 20 per cent over two months to 763 million in February 2017.
This puts in peril the government's target to achieve 25 billion digital transactions in 2017-18, which translates to at least two billion transactions per month. The February 2017 figure of 763 million transactions falls 60 per cent short of the monthly requirement.
"The continuance of that high growth with a further pick-up in some components (of digital payments) (sic) from November to January 2017 was a positive fallout of demonetisation. However, the pace of growth moderated somewhat in February 2017," the RBI noted in its first assessment of demonetisation, titled "Macroeconomic Impact of Demonetisation — A Preliminary Assessment".
Prime Minister Narendra Modi — whose narrative of development earned Bharatiya Janata Party (BJP) a landslide mandate in the recent Uttar Pradesh assembly polls — changed tack on demonetisation from black money and fake currency initially to digital/cashless economy later.
Only two payment platforms, Unified Payments Interface (UPI) and Aadhaar Enabled Payments System (AEPS), show a consistent rise in value (in Rupees) and volume (number) of transactions post-demonetisation. All other forms have shown a decline — either consistently or in one or two months in the four-month period.
While UPI links mobile applications to a person's bank account directly, AEPS is an Aadhaar-linked biometric identification system used for direct cash transfers under government schemes.
"Digital cannot substitute cash. The share of digital among transactions might increase in the long run but cash is affordable," Rajeswari Sengupta, economics professor, Indira Gandhi Institute of Development Research, told IndiaSpend.
"Digital transactions demand a person to buy a smartphone and spend on data, which incur higher cost per transaction. People naturally prefer cash, where the cost is borne by the government."
Use of online banking using the National Electronic Funds Transfer (NEFT) platform reduced consecutively in January and February 2017, while that of Immediate Payment System (IMPS) increased in December 2016 and January 2017 but declined in February.
"The catalytic push from demonetisation hastened migration towards digital payments in November and December 2016. However, ease in availability of cash by progressive remonetisation impacted the pace of growth of digitalisation in February 2017," the RBI assessment said.
Debit and credit card transactions for four major banks show little difference between November 2016 and February 2017 — 205 million swipes transacting Rs 35,200 crore in November 2016 to 212 million swipes transacting Rs 39,200 crore in February 2017.
"As the cash in circulation will settle to a lower normal than the pre-demonetisation levels, digital payments will settle at a higher normal and continue its upward trend as before," Sangram Singh, head of cards and payments, Axis Bank, told IndiaSpend.
Card transactions improved to 311 million swipes transacting Rs 52,000 crore in December 2016, showing a 50 per cent rise in transactions and 48 per cent rise in value transacted over a month.
But the pace of addition in debit and credit cards has not been matched by an equal focus on point of sale (PoS) terminals.
"..in comparison to the 800 million cards that have been issued as of now, the number of PoS terminals has not been really adequate," RBI Deputy Governor R. Gandhi said in a speech last month.
High capital and operational expenses have deterred the expansion of PoS infrastructure, Gandhi added.
Cash available with people, which reduced from Rs 17 lakh crore just before demonetisation to the lowest post-demonetisation level of Rs 7.81 lakh crore ($118 billion) on December 9, 2016, increased to Rs 11.74 lakh crore ($178 billion) on March 3, 2017, according to RBI data.
Modi had announced the world's biggest currency swap programme that scrapped 86 per cent of high denomination Indian currency on November 8, 2016.
The current level of currency with people matches the November 2013 level of Rs 12 lakh crore ($200 billion at the then prevailing exchange rate of Rs 60 per US$).