Advertisement

With an aim to deliver tailor-made devices to customers to meet their needs and fit their usage habits, Chinese tech giant Lenovo announced a new range of laptop and tablet products at the 2017 Consumer Electronics Show (CES 2017)….writes Sourabh Kulesh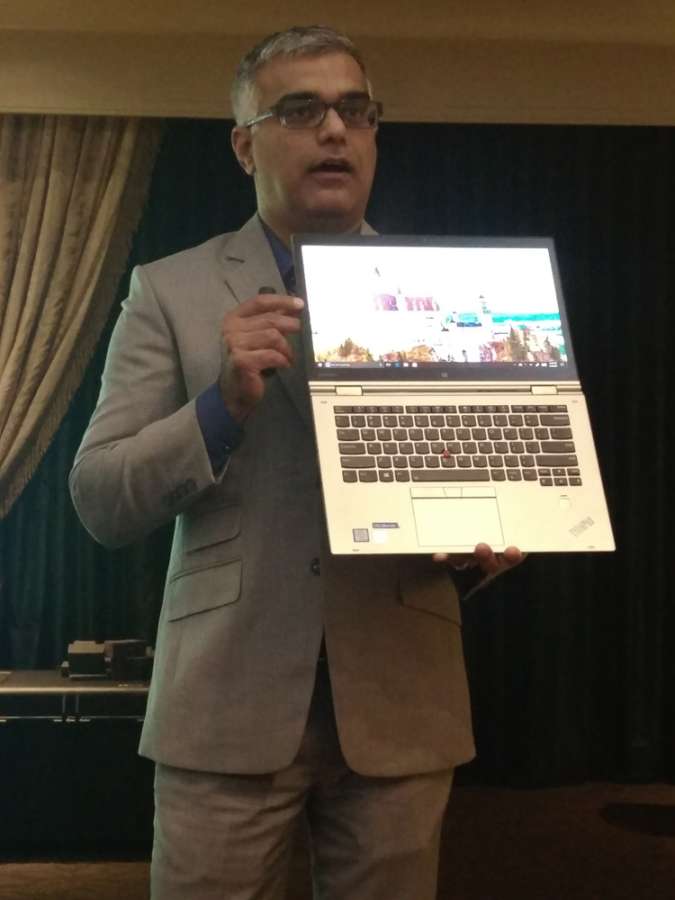 Lenovo showcased its premium work and play experience device ThinkPad X1, Miix 720 detachable, new gaming sub-brand Lenovo Legion and two laptops under the new sub-brand — Lenovo Legion Y720 and Lenovo Legion Y520 Laptop at the event.
"Our approach to innovation is to ensure we are constantly evolving and understanding how technology is infused within every individual, business and home," Gianfranco Lanci, President and Chief Operating Officer at Lenovo, told reporters here.
The next generation of ThinkPad X1 products cater to the need of professionals who blur the line between work and personal PC use.
Lenovo's 5th generation ThinkPad X1 Carbon — available in classic ThinkPad Black and new metallic silver colours — is the lightest 14-inch business notebook that weighs just 2.5 pounds (1.1 kg) and packs a 14-inch IPS display into a new sleek 13-inch form factor.
The new X1 Carbon offers up to 15 hours of battery life and has been redesigned to include Thunderbolt 3 ports (the fastest port available on a PC), super-fast LTE-A Wireless WAN and WiFi certified WiGig options that deliver superior performance and connectivity.
"Over 80 per cent of our consumers were concerned about battery life. Other thing the customers were worried about is colours, so we are now offering a choice of silver colour this year," Dilip Bhatia, Vice President of Global Marketing, User and Customer Experience Lenovo PC and Smart Device Business Group, said.
Taking a note of increased cybercrime threats, the new device offers enhanced security features.
It comes with a fingerprint sensor with a dedicated chip that handles biometric processing and helps secure and simplify the Windows Hello login experience with a new face recognition Infrared camera.
Adding to the list is the updated ThinkPad X1 Yoga which is flawlessly flexible, offers true multi-mode capabilities and delivers stunning colours on the only 14-inch notebook with an OLED screen.
Also, a redesigned rechargeable pen and improved "rise and fall" keyboard complete the improved experience.
"Rise and Fall" feature pulls in the keys of the device when working in tablet mode, giving a flat surface feeling. Also when a user folds the laptop after turning it off, it again pulls in the keys to keep the display free from any marks and scratches.
Alongside continuing to impress with its lightweight, modularity and serviceability is the ThinkPad X1 Tablet. The device has unique modules that offer port expansion and up to five hours of additional battery life and an integrated projector option.
Meanwhile, the Miix 720 Windows detachable combines a 12-inch QHD+ display and precision touchpad-enabled keyboard with up to 7th Gen Intel Core i7 processor and Thunderbolt 3.
One can simply remove the keyboard to instantly transform the Miix 720 into a touchscreen tablet. Paired with a multifaceted Lenovo Active Pen 2, the Miix 720 is ideal for effortless note taking or bringing creative concepts to life.
"Why Mixx 720 is better than its competitors? Its simple; the 150-degree tablet kickstand easily adjusts to the users' preferred viewing angle, ensuring comfort and entertainment," Bhatia added.
The Thunderbolt Lenovo Active Pen 2 is sold separately and may be hard bundled or optional depending on the geography.
Also to meet the evolving needs of the gaming community, the company also launched a new gaming sub-brand Lenovo Legion and two powerful gaming machines under this name — Lenovo Legion Y720 Laptop and Lenovo Legion Y520 Laptop.
"The reason why we launched these gaming laptops is we needed to provide legitimacy to our product. Legion is all about the community of gamers. In future we will have a line of gaming desktops under the legion sub-brand," Bhatia noted.
The new devices allow a greater gaming experience powering VR through the latest NVIDIA graphics, sound with Dolby Atmos and increased performance with the 7th Gen Intel Core i7 processor.
The devices ThinkPad X1 Carbon — which starts from $1,349 — and ThinkPad X1 Yoga — which starts from $1,499 — will be available in February.
While ThinkPad X1 Tablet (starts from $949) will be available in March, Miix 720 (keyboard included) which starts at $999.99 will be available in two colour options champagne and iron gray beginning in April 2017.
Lenovo Active Pen 2 starts at $59.99 will be available beginning in February.
While, the Lenovo Legion Y720 Laptop is price range starts from $1,399.99 and will available from April, Lenovo Legion Y520 Laptop will be available from February at price range starting $899.99.