Advertisement

AIADMK's legislature party leader Edapadi K. Palanisamy met Tamil Nadu Governor C. Vidyasagar Rao with a list of legislators supporting him and staked claim to form the government….reports Asian Lite News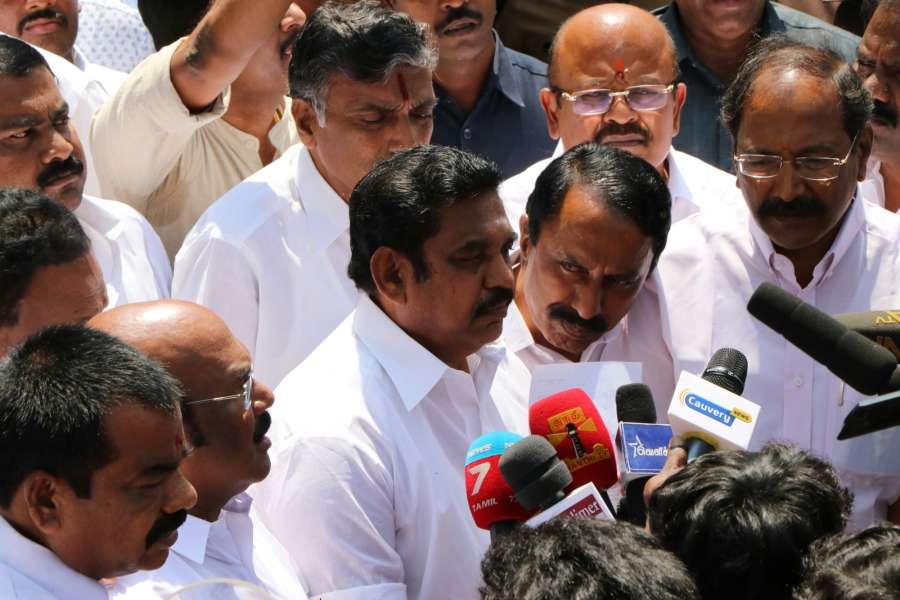 Addressing reporters after the Governor met Palanisamy and others, Fisheries Minister Jayakumar said: "We have submitted to the Governor the list of legislators supporting Palanisamy. We also requested Rao to call Palanisamy to form the government."
Palanisamy is part of AIADMK General Secretary V.K. Sasikala camp.
According to Jayakumar, the Governor listened to them and said necessary action would be taken.
The Governor later met the rival party faction of acting Chief Minister O. Panneerselvam.
Earlier in the day AIADMK General Secretary V.K. Sasikala, held guilty for corruption, on Wednesday returned to the Bengaluru jail as the battle for supremacy in the AIADMK continued in Tamil Nadu.
Sasikala, 59, was sent to a women's cell in the Central Jail soon after she reached Bengaluru in a convoy of cars from Chennai after her plea for more time to surrender was rejected by the Supreme Court.
A prison official told journalists that the long-time confidante of the late J. Jayalalithaa, who was Chief Minister of Tamil Nadu when she passed away on December 5, is expected to make candles in jail.
Sasikala surrendered to the trial court set up in the prison along with her sister-in-law Elavarasi and nephew V.N. Sudhakaran, all of whom were held guilty along with the late Jayalalithaa by the apex court on Tuesday of having assets disproportionate to their known sources of income.
All four were lodged in the same prison for three weeks from September 27, 2014 after the trial court sentenced them. They later got bail from the Karnataka High Court.
Even at the prison, where police and AIADMK activists scuffled, Sasikala sought more time to serve the jail term but the judge rejected her request and told her to undergo a health check-up.
The trial court was set up in the jail complex because the civil court complex in Bengaluru is in a congested area and could have faced law and order issues due to the high-profile nature of the case.
In Chennai, Governor C. Vidyasagar Rao prepared to invite acting Tamil Nadu Chief Minister O. Panneerselvam as well as pro-Sasikala AIADMK leader E. Palanisamy to find out who has majority support among party MLAs.
Before leaving Chennai, Sasikala visited the Marina Beach memorial of Jayalalithaa. Hitting the floor thrice with her right hand, she pledged to return to politics after defeating the "betrayers" in the AIADMK.
She later went to AIADMK founder late M.G.Ramachandran's house at Ramavaram and paid her respects before his picture and also meditated for some time.
At both places, hundreds of supporters gathered, most of them looking grim.
Once the Supreme Court held Sasikala guilty of corruption on Tuesday, the MLAs backing Sasikala and housed in a guest house near here elected Palanisamy as their new legislature party leader.
On Wednesday, Panneerselvam aides claimed he had the support of some 40 of the 135 AIADMK legislators but Palanisamy said he had adequate legislative backing to form a government.
Earlier, police registered a FIR against Sasikala and Palanisamy after AIADMK MLA S.S. Saravanan accused them of abducting him. The party denied the charge.
Saravanan, a legislator from Madurai South constituency, filed the abduction complaint against Sasikala and Public Works Minister Palanisamy.
Saravanan told the media on Monday that he scaled a wall at the resort in Koovathur, 90 km from here, and jumped down to escape.
After his complaint, hundreds of police personnel in riot gear reached the resort on Wednesday.
"Saravanan's complaint is totally false. He himself had told police a couple of days back that he is staying at the resort on his own will," an AIADMK MLA, Inbadurai, told reporters.
The legislators at the resort have switched off their phone lines and some do not answer the calls or cut the call if it is from the media.
They said they could vacate the resort if Palanisamy told them to do so or if he was called to form a government.