Advertisement

It is imperative for director Shankars 3D monster-budgeted "2.O" to click. The film has gone grossly over-budget and needs to earn back a large chunk of the investment to be considered a "non-loser"…reports Asian Lite News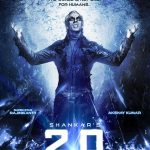 Finally, the first official teaser is out. Weirdly, there are a lot of flying cellphones in the frames. We don't know if they are meant to be birds shaped as mobile instruments or more intriguingly, metaphors for our collective need to just toss the darn thing out of the nearest window. A time to de-tox brought on by Akshay Kumar's arch villainy. Be as it might, the sight of mobiles flying out of startled hands is more hilarious than horrifying.
Rajinikanth's fans have much to be happy about. He is back again in two roles, one of them jovial but no-nonsense Chitti from the first "Robot" film. Rajinikanth's name on the screen is prefixed with 'superstar'. Akshay Kumar's name is not. We see just one shot of Akshay in the trailer. That was disappointing.
According to sources close to the project, the ploy to keep Akshay's archvillain's character swathed in enigma is not unplanned.
The director wants an aura of ambivalence to encircle Akshay as his plans of global domination are not entirely megalomaniacal.
"His character is not just a straightforward villain to offset Rajinkanth's character. On the contrary, Akshay is quite a hero himself," said a source.
We don't really get to know much about Akshay's character in the first teaser except that he looks hideous. It takes a whole lot of prosthetics to make a man as handsome as Akshay look that bad. We all have our secret fantasies, I guess.
A second teaser where Akshay would be the focus of interest will soon be out. Meanwhile, the 'epic' quotient in the first teaser is pretty high. The special effects which have undergone an enormous amount of transition, are adequate enough to justify an English-language version of "2.0" for the European and American markets.
The sound design by Resul Pookutty captures the crackle and hiss of flying objects with an immediacy and authenticity that is rare in our cinema. But A.R Rahman's music seems pale. Apparently, a non-vocal Rahman composition was planned as the background score for the teaser. But after it got leaked, the film's crew decided to use the attention-grabbing rap number in the background.
Would the film open on November 29? The teaser doesn't say. Fingers crossed.