Advertisement

Actress Shilpa Shetty says that she always liked to be ahead of time…reports Asian Lite News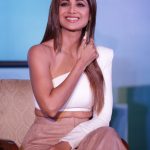 She made her Bollywood debut with Shah Rukh Khan-starrer "Baazigar" in 1993. After featuring in many films, the "Dhadkan" actress made India proud by winning the British reality television show "Celebrity Big Brother" in 2007. She is now associated with digital series "Hear Me. Love Me."
"I've always liked to be ahead of time. Back in the day, I was one of the firsts to venture into television then I released yoga DVDs and then a YouTube channel. Now, this platform. There are so many people who want to be entertained when they want to. So, in that sense, this show made sense to me," Shilpa said in a statement.
She feels that after doing so much work on the big screen and interesting work on TV, the digital platform is definitely the way forward.
"In this age and time, when people have very little time and many choices to choose from, this works perfectly well," Shilpa said.
"It's one of a kind show, not just for me but also for the audience. I enjoyed hosting it and seeing how the millennials think. I know I sound like a fossil when I say this, but it's interesting to see how clear they are in their heads.
"Many believe that this generation is frivolous, but I don't think they are. They are willing to try out different choices which I think is a great thing. I am really old school, but if I would have had a chance, I would have loved to be on this show. I have learnt a lot being on this show," she added.
Amazon Prime Video on Tuesday announced the launch of its next Prime Original series, "Hear Me. Love Me."
Challenging the notion of 'love at first sight', the reality series brings to life a virtual blind dating experience that combines technology and human interaction in a new format.
Shilpa dons the mantle of a relationship guide and confidante as she helps contestants navigate through the mores of romance in today's digital age.
Produced by Fremantle, India, "Hear Me. Love Me.", a 10-episode series, is set to launch on September 28.