Advertisement

Amitabh Bachchan shares a very special rapport with Ajay Devgn. Ajay's father, the famed stunt co-ordinator Veeru Devgan, is a friend of Bachchan. The friendship continues with the next generation, with Ajay and Abhishek Bachhan sharing very warm vibes…reports Asian Lite News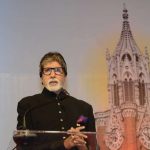 So when Ajay requested the senior Bachchan to make a special appearance in his production "Ela Helicopter", the film starring Ajay's wife Kajol, the veteran actor readily agreed.
There was no question of any monetary transaction. Bachchan has appeared in many films for fleeting appearances out of goodwill.
In the Madhavan starrer "Ramji Londonwale" and in R. Balki's "English Vinglish", Bachchan had appeared as himself, as too in Basu Chatterjee's "Piya Ka Ghar" (which starred Bachchan's superstar wife Jaya) and in Dulal Guha's "Dost".
But to me Bachchan's most memorable guest appearances as himself was in the Kannada film "Amrithadhare".
This was special, because I was instrumental in getting him to do this role. The film starred Ramya a.k.a Divya Spandana who is now a spokesperson for Rahul Gandhi. Back then she was a very polite, guileless, wannabe actress who played the role of a terminally ill woman whose dying wish was to meet Amitabh Bachchan.
The director Nagathihalli Chandrashekhar didn't know how to approach the big B, because the film couldn't be made without Bachchan's appearance (unless they managed with a duplicate) for the crucial scene in which the dying girl finally meets Bachchan. Since they had heard of my closeness to him, they made this one last attempt.
Considering the urgency of the situation, this was the only time I asked Bachchan for a favour. He immediately agreed. On the appointed day, the crew of "Amrithadhare" landed in Mumbai to shoot the required sequence. Bachchan arrived at the exact time and shot the scene. He took pictures with the awestruck crew and was about to leave when the nervous director came forward with a gift.
"Sir, you have been generous and refused to accept any money. We have this small token of appreciation and gratitude," the director mumbled.
But Bachchan refused to take the gift (an expensive pen).
No amount of coaxing and cajoling could convince him otherwise. Finally, I got a call from the frantic director asking me to request the icon to accept the gift.
Only then did Mr B oblige.
Such is the greatness and generosity of this mega-star. I later asked him why he was so reluctant to accept the gift from the grateful director and he had replied. "Won't accept any remuneration means won't accept anything. You told me the film needed my presence. That was it."
Cut to many decades later when Dibakar Banenerjee needed Ranbir Kapoor to appear as himself in "Bombay Talkies". Many attempts to get the actor failed and Dibakar finally had to use a double. There is a lesson to be had from the above incident on why there will never be another Amitabh Bachchan ever again.