Advertisement

The Chicago South Asian Film Festival(CSAFF) will showcase over 70 films from India, Pakistan, Bangladesh, Sri Lanka and Nepal at various theaters in the city from September 20 to 23. The festival has grown over nine years to be the largest of its kind in the Midwestern United States…reports Asian Lite News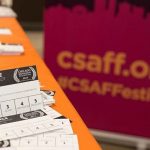 The festival will have the world premiere of 'The Music Teacher' about a musical talent gone awry. It will also feature 'Doob' starring Irfan Khan, and 'Birds of dusk' a docu-feature on the Bengali writer director Rituparno Ghosh.
On the opening night, the festival will pay a tribute to the late actor Sridevi through a dance performance featuring some of her most memorable songs.
"The carefully selected films which we screen fills the void that exists in the mainstream films, by elevating social awareness and promoting discussion," said festival manager Jigar Shah told IANS in an interview.
The festival was founded in 2010 on the principle of giving a platform to voices that had not been previously heard, Shah said. Moderated question and answer sessions provide a platform for the directors to fully explain their vision to the audience and spotlight issues they are passionate about, he added.
Shah said that the festival has emphasised the true South Asian diaspora, which is, however, not restricted to a geographic area. This year, the festival is screening a film by a Spanish team that depicts the struggle of South Asian athletes as they attempt to qualify for swimming events at the Olympics.
Shah said in years to come, he hopes that the festival will promote off-beat film makers with work sessions, focus on themes like women, the environment, hyper-partisanship etc.
Later in the year, the CSAFF has organised a retrospective tour with Vishal Bhardwaj's Shakespeare trilogy ("Maqbool", "Omkara" and "Haider") and also a musical tour with the poet and lyricist Javed Akthar.
Shah said he continued to be "humbled and amazed" at the unwavering commitment of many filmmakers participating in the festival. "This year we had a director who braved the devastating floods in Kerala to make sure we received his film. Last year we had the same thing happen with the tropical storm Harvey (which hit parts of the US). This indicates how meaningful an event this festival has become for filmmakers across the world," he said.