Advertisement

Sharman Joshi's filmography is a mix of comedy, thriller, horror and romance movies, but it's the actor's comic timing that is often appreciated. Surprisingly, he says drama comes more naturally to him rather than comedy…reports Asian Lite News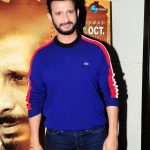 Going by the trailer of his forthcoming film "Kaashi in Search of Ganga", he plays an intense character in it.
Asked how difficult or easy it is for him to play a role like this, Sharman told IANS in a telephonic interview: "Emotions and drama come naturally to me. They are more of interest to me as an actor. Comedy is kind of…now I am fairly comfortable with it also. But to do comedy, I had to spend a lot of time on myself and work on myself."
His experience in theatre helped him to work on his comic timing.
"I was well prepared by the time I came to cinema," said the "Lajja" actor, who made his debut in cinema in 1999 with the biographical drama movie "Godmother" and later showcased his comic skills in films like "Style", "Golmaal" and "3 Idiots".
"I had done a couple of plays which required comic timing. The audience became my tutor. But yes, emotions and drama come more naturally and easily. That is why Kaashi was fun to play," he added.
He "absolutely loved" the script of "Kaashi in Search of Ganga".
"I feel that generally in thrillers, the last 20 minutes are very crucial. Of course, the whole movie has to be engaging but the last 20 minutes, especially when the story unveils itself… the story (of 'Kaashi…') was holding itself beautifully. The surprise element of the story is shown in a logical and systematic fashion, which makes it even more special," he said.
The film's shooting location, Banaras, added depth to the film's story.
"The script of 'Kaashi…' is very layered. It has a lot of depth in it and the backdrop of Banaras just added to the narrative," said Sharman.
He also learnt the accent spoken by the people of the city, which is in Uttar Pradesh.
What about trying his hand at regional films?
"I think next year, I should be able to do something in Gujarati. I have not signed anything till now, but there is a script, which I might do," said the "Super Nani" actor.
He is also looking forward to the release of "Babloo Bachelor", a romantic-comedy.
But his one film, "Tom, Dick, and Harry 2", is "stuck".
"The producers had some financial issues. So, it is stuck at the moment," he said.
"You put in energy and time into a project and when it gets stalled, it definitely impacts you. If they decide to revive it after many years, then the film will lose out and then you will lose out. That impacts you as an actor," he added.
Still, he has more to look forward to – his debut in the digital space.
"I have met a couple of people. I don't know which one will get locked first. AltBalaji is one of them. Nothing is finalised," he shared.