Advertisement

Actor Sunny Pawar won a lot of international fans when he attended the prestigious Oscar and Golden Globe award ceremonies last year for his debut film "Lion". He is now the lead actor of a film, but he still doesn't feel like a star…reports Asian Lite News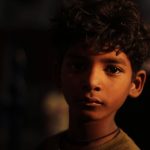 Sunny comes from a humble background and despite working in projects starring popular names like Nicole Kidman, Dev Patel, Saif Ali Khan and Nawazuddin Siddiqui, he is still grounded.
After playing relatively smaller but significant roles, he will be seen as the protagonist of "Chippa".
Asked if he feels like a star now, Sunny said: "I don't feel like a star."
"Chippa", which will premiere at the Jio MAMI 20th Mumbai Film Festival with Star on Monday, is a story about the aspirations of a child who lives on the streets.
The story is told through a journey he takes into an enchanting world that he creates himself on one wintry night in Kolkata.
So, was there pressure on him because he is almost in every scene of the film?
"No. There was no pressure. The director (Safdar Rahman) and my father explained things to me," said the 10-year-old.
He was thrilled to be back in Kolkata, where he had shot his debut film "Lion".
"I got to roam around a lot this time. I got to play and I had a lot of fun," said Sunny.
While working on this film, helmed by a new director, he missed one thing — the glamour.
Still, he had fun.
His projects — "Lion" saw him getting lost on the streets, "Sacred Games" has now become one of the most popular Indian web television thriller series and "Love Sonia" got widely praised for dealing with child trafficking.
Why does he go for such serious stories?
"My dad selects scripts for me and I never felt that he made a wrong decision in choosing projects for me," said the child actor.
"I want to continue acting and I want to do all types of roles," he shared.