Advertisement

Filmmaker Karan Johar says he finds it disturbing that there's a lack of information and awareness about sexual individuality…reports Asian Lite News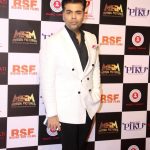 In an interview to CNN-News18, Karan spoke of 'men's enlightenment', and touched upon how there are people who are gay but married (to someone else) because of society pressures, and there are men who are scared to tell their parents.
Karan said: "It is very disturbing as firstly there is no information on sexual individuality. I think the most important thing is when there is information and awareness, it leads to understanding it and then it leads to get you an emotion towards it.
"When you don't have an understanding and awareness of what it is, how deeply rooted and emotional it is, well that's how it is."
He said judgments must be kept aside.
"When a man loves a woman or a man loves a man, the level of intensity is not something that you are supposed to judge.
"It's something you have to evolve with, it's something you have to accept, and it is a part of the human DNA," added the filmmaker.
He said the "Log kya kahenge (what will people say)" phenomenon has to end because it does not matter what anybody says because eventually what they say will pass but your life stays.
It took you a long time to say this and to accept it yourself, the interviewer asked Karan, who in his book "An Unsuitable Boy" said he didn't feel the need to scream out his sexual orientation.
The 46-year-old filmmaker said: "No I don't think I am not living in a way people will say or judge. So, I do what I like and I do what I love.
"When I love to dance on stage, I do. They say, as a filmmaker I should not dance on a reality stage and I say 'who said this is a rule?' They say 'you are not supposed to do a talk show'. If I feel like pouting in a selfie, I'll do it because it makes me happy.
"And I don't want to do anything to conform with what the world says. When you do that with confidence and you do that with conviction, let me tell you nothing can come in the way of that."
When the Supreme Court on Thursday decrimanilised homosexuality between consenting adults by declaring Section 377, the penal provision which criminalised gay sex as "manifestly arbitrary", Karan, along with a slew of Bollywood celebrities, called it a "historic" judgment.