Advertisement

Film: "Love Sonia"; Starring: Mrunal Thakur, Riya Sisodiya, Richa Chadha, Freida Pinto, Anupam Kher, Manoj Bajpai, Rajkummar Rao; Director: Tabrez Noorani; Rating:** (2 stars)..reports Asian Lite News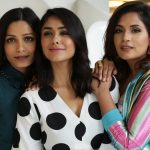 This well-intended melodrama about human trafficking and child prostitution has its heart in the right place. Sadly, the social perversity that ought to have galvanised the director into action, seem to finally drag the film down to the very level where the sub-human culture of the flesh trade exists.
There is something fundamentally amiss in a film where a posse of capable actors get together to create a messy tribute to the Bleeding Heart's Club. The narrative seems to be a diehard fan of its own righteousness. Often times, the sexual violence is repugnant not for being excessively graphic (which it is), but because the sadism seems to be disturbingly gratuitous, leading us into believing that in some cases, cinema about sexual violence gets so close to its subject that it loses its dispassion and ends up celebrating rather than abnegating the violence.
"Love Sonia" means well. No doubt about that. Regrettably, so does the guy who randomly shoots down innocent people in a pub as what he thinks to be the solution to ethnic inundation.
At times, the language of violence used in this film is as violent as the situation that it (the language) is meant to condemn. The problem is not so much director Tabrez Noorani's amateurish borderline-hysterical responses to the flesh trade. The bigger problem is the film's inability to differentiate between condemning and unintentionally celebrating sexual violence.
I have seen at least two films in recent times which bled its wailing heart into lives of prostitutes. Nagesh Kukunoor's "Laxmi" was so gruesome it made you flinch. While Jeffrey Brown's "Sold" was so dainty about the raw world of brothel abuse that it ended up looking like a Disney film posing as an Anurag Kashyap shocker.
"Love Sonia" is neither graphic enough to shake us nor sweet enough to qualify as conscientious fluff. It is caught in the middle between brutal and beautiful achieving neither extremity in spite of some terrific camera work by the Polish Lukaz Bielan who seems to understand the need to create an equilibrium between passion and perversity better than the director.
Noorani flounders at crucial moments letting down the victim-protagonists in the film in a similar way that destiny has chosen to do. The story of two sisters in an Indian village, one of whom Preeti (Riya Sisodia) is sold off to ease her debt-ridden farmer-father's (Adil Hussain) burden.
As Sonia (Mrunal Thakur) follows her sister into the evil world of pimps, prostitution and fornication, I felt I was watching an Ekta Kapoor serial with every frame breathing fire.
The narration is breathless with righteous indignation. The breast-beating tone secretes scarcely any room for tenderness except when the amazing Rajkummar Rao (is there anything that he can't do?) appears for fleeting moments of hope in a tale that revels in hopelessness.
Robust performances by newcomer Mrunal Thakur, Richa Chadha, Manoj Bajpai and Sai Tamhakar cannot redeem this sunless drama of the damned from drowning in the dreadful pool its own doom.