Advertisement

Shikha Talsania remembers the time when people wanted to "pigeonhole" her by offering characters that had no other layers apart from being fat. Saying no to every project was difficult, but the actress knew what she wanted to do as her skill set, to her, is far more important than what she looks like…reports Asian Lite News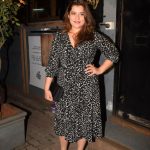 "Absolutely! I'm human after all. I'm not a superhuman who is devoid of these feelings. I mean it was quite normal to feel like that, but it did not take away from the fact that I still wanted to do what I wanted to do.
"It did not take control or essentially rule everything I wanted to do with my life – it's just a part of it that I addressed in my own way. For me, my skill set is far more important than what I look like," the actress told IANS on an e-mail when asked if she ever felt low on body confidence, especially when she doesn't fit the bill of a perfectly toned heroine.
Shikha was a part of Dove's celebration of the International Day of the Girl Child on Thursday. The brand hosted Dove Self Esteem Project workshop, which brought together 100 young girls between the ages of 12 to 14.
The event addressed how issues of low body confidence and anxieties over appearance stop young people from being their best selves, affecting their health, friendships and even performance at school. The students engaged in an hour-long session comprising fun exercises and discussions on their perception of beauty.
Talking about if her body weight ever felt a roadblock in getting the roles she wanted to play, Shikha said: "After 'Wake Up Sid', people wanted to pigeonhole me and give me parts that didn't have any other layer apart from the fact that 'she's fat', with ideologies that had nothing to do with what I believed in, like 'despite being fat, she's funny' or 'despite being fat, she's intelligent'.
"So, while it has been difficult to say no to work because ultimately you have houses you need to run, you got to do what you got to do. I've been fortunate, very lucky and I do believe I've worked very hard to be where I am today to choose the projects that give you that creative freedom."
Shikha, who was last seen playing a married woman with a child in "Veere Di Wedding", says she wants to do more such roles.
The actress says that new-age Hindi cinema where content is given more importance than glamour, more doors are opening up for talent regardless of looks, age and popularity.
"I was in a film, a protagonist in a film where women played central roles with adult themes, that was essentially loved by so many people and I feel like keep repeating myself, but people are getting far more aware, we are telling stories that have a lot more truth in them. We are bringing way more reality to our films," said Shikha.
Giving a message to all the girls and boys who face anxiety over appearance, which results in low self-esteem, she insists that talking about it helps.
"Talk about it with your parents, with your friends. Find empowering people around you. Use the internet to find empowering people who will inspire and remember you are not alone. Every person on this planet goes through this issue. Work to be the best versions of yourselves. It's hard work but you've got to do it. You've got to start looking at the positives than the negatives," she said.
Perhaps this is why Shikha liked the Dove campaign, which she believes was "a wonderful platform to begin conversations like these". She was amazed at the young girls she spoke to at the workshop.
"They were so aware, and they knew just so much more than I did when I was their age. I'm really excited about being a part of things like this because I've always promoted body positivity and I think we need to always work towards being the best versions of ourselves. This requires a constant effort in understanding yourself and love yourself for who you are," said Shikha.