Advertisement

Ever since I turned 5 or maybe 6, I have believed God lives in THAT voice. Many, many years later, it hasn't changed. To hear Lata Mangeshkar sing is to have known God. To have known her personally is to have found moksha, far beyond what any acknowledged religion can teach you…reports Asian Lite News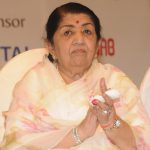 I got to know her very late. For decades I hero-worshipped her from very far away, like one does the Gods. If asked why I didn't meet her personally, I'd reason ridiculously: "You worship God, you don't shake hands with Her."
Or some such nonsense to explain my fear of meeting in person the God that I worshipped. Suppose she turns out to have feet of clay?
But as luck would have it, Lata Didi turned out to be as beautiful in person as she was in voice… Okay, maybe that's an exaggeration. No personality can ever match that voice. Not even Lata Mangeshkar herself.
(An aside: Which heroine is able to carry off Lata Mangeshkar's voice most adequately: Meena Kumari, Nutan, Waheeda Rehman, Madhubala, Vyjanthimala, Sadhana, Hema Malini or Sharmila Tagore? Answer: All, and none of the above).
It was my friend Sanjeev Kohli, the son of the illustrious composer Madan Mohan, who arranged my first meeting with her, an encounter that turned into a kinship that has lasted for 28 years now.
I vividly remember my first meeting with her at the Shiv Sena Bhavan in Mumbai. She was supposed to reach in the evening at an appointed hour to rehearse for a concert that was being hosted by Anupam Kher. I met Anupam. But I didn't meet her. She was unwell. She sent a message for me to meet her the next day at the same venue.
The next day I trooped down to Shiv Sena Bhawan with a friend. How do I describe the moment when I first met her? I won't. Because there are no words to replicate the way my heart waltzed in my chest.
The magic has remained for 28 years. I consider myself hugely privileged to have known her. I know of so many who just want a glimpse of her. Scores of people stand below her home, Prabhu Kunj on Peddar Road in South Mumbai, in the hope of catching a glimpse of her in the balcony.
Lata Mangeshkar never comes out on that famous little balcony of her residence where she has lived for 40 years and where fans gaze in the hope of seeing her. But here is where I feel blessed. I've not only sat for hours with her in that cosy family home in Prabhu Kunj, I've also been privileged to see her room where no one is allowed to enter.
Once during our lengthy telephonic conversations, I mentioned to her that I'd like to see the sanctum sanctorum. Many months later when we met at Prabhu Kunj she remembered my request, "You wanted to see my room?"
And she took me to the sparkling, neat little room which I am sure none of her Bhakts have ever seen.
Thank you, Didi, for taking me where very few have the honour of going. Thank you for those hundreds of songs which have lit up the darkest of my days — and of innumerable others across the world.
Thank you for the music.