Advertisement

Bollywood megastar Amitabh Bachchan, who turned 76 and who earlier drew flak for dodging questions on the industry's #MeToo movement sparked by the Tanushree Dutta-Nana Patekar row, has said women should never be subjected to misbehaviour especially at the workplace…reports Asian Lite News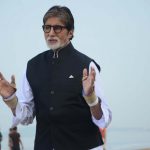 Excerpts from the interview;
It is that special day again… Special for us, that is. Why do birthdays annoy you so much?
Such an unnecessary fuss! Birthday… It's just another day in the life of another person! What's the big deal?
What would be the ideal birthday for you? Perhaps a day spent completely away from attention?
Yes, that would be ideal… But I would like to have my family with me, particularly my grandchildren.
Sexual harassment at workplace, specially in the entertainment business, is one of the vital issues being addressed today. How do you look at the problem of women's safety at workplaces?
No woman should ever be subjected to any kind of misbehaviour, or disorderly conduct, especially at her workplace. Such acts should immediately be brought to the notice of concerned authorities, and corrective measures be taken, either through filing complaints or a recourse to law.
Discipline and civic, social and moral curriculum, should be adopted at a very early educational level. Women, children and the weaker sections of our society are the most vulnerable. They need to be under special protective care. It has been most heartening to see women representations in most work vocations, on the increase in our country. It would be an irreparable blemish if we are not able to provide them the welcome they deserve and the dignity of the security of their presence.
Amitji, for years and years now you've been living a life devoted to others. Do you sometimes feel, 'Ab bahot ho gaya. Ab mujhe khud ke liye jeena hai'?
I wonder why you feel that way. You won't find an individual who is content in living a life dedicated to others, anywhere else. Saying 'I've done enough' would be a very weak position to take for me as an artiste. The day an artiste feels that this is enough no more, would be for me, a defeat on my creative abilities.
But there's only this much that you can do in one life?
Yes , there shall always be limitations to our abilities, but to admit that without effort, would be devastating. I believe we learn each day of our living life. Giving up on it would mean, giving up on living. I would wish to keep learning each day of my life .And I do know and realise that even that would never be enough.
What are some of your unfulfilled dreams as an actor, artiste, musician and an Indian?
As an actor, there are millions of unfulfilled dreams. Dreams of perfection, of qualifying the craft to its ultimate, if there ever can be one. As an artiste, to accept my limitations and yet keep attempting to improve on each challenge. As a musician, to be able to educate myself and be in the learning of musical instruments, for music to me is the closest connect to the Almighty.
The learning not for any kind of exploitation, but for my own personal, internal passion! As an Indian, I have always wanted India to be termed as a developed nation, and not be in the category of a 'developing nation', as India is often referred to in the West; to be a First World nation, and not be labelled as Third World!
Your next release is the much-awaited "Thugs Of Hindostan" where your get-up, demeanour, dialogues and, of course, the legendary baritone are being talked about again. How easy/tough was it for you to wear all that make-up and do the gruelling action scenes?
Yes, the make-up and costume and the acts during the shooting of "Thugs of Hindostan" have been tough and difficult and strenuous. But when did any job ever become easy? The time consumed in getting prepared for work each day took a good 3-4 hours, in putting the look on and another hour and a half to take it off at the end of the day. But once a commitment has been made, it is but professional to do and behave in a manner that is directed by the makers. I hope I have been able to do so.
I know favourites keep changing. But which among your films are your favourites at the moment?
All! I can't pick any favourites.
If 'Deewaar' were to be remade, whom would you like to be cast in Shashi Kapoorji and your roles?
We have today in the film industry several distinguished talents of this generation that would be more than capable of remaking and performing roles played by Shashiji and me. I just feel, with all due respect, it would be extremely difficult to replicate the writing and screenplay of Salim-Javed.
I agree. Your closing thoughts?
I hereby close my interview. Until next time.