Advertisement

Film: "Pakhi"; Director: Sachin Gupta; Cast: Anamika Shukla, Sumeet Kant Kaul, Anmol Goswami, Tanmanya Bali; Rating: *…reports Asian Lite News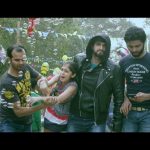 Coming from a National Award winning director and the "Natya Bushan" winner, "Pakhi" is a huge let down.
Based on true events akin to the last week's released "Love Sonia", "Pakhi" is the story of Pihu, a 10-year-old girl who is forced to marry an older person. It is her journey, which is the most painful journey the audience must endure and that is not because of Pihu's trails and tribulations but because the director takes us through a senseless and complex route.
The narrative begins with Suhani, a young girl getting conned into the flesh trade operated by a goon called Bali (Sumeet Kant Kaul).
Circumstances make the brutal Bali believe that Suhani is lucky for him and so gives her a royal treatment compared to the other girls in his coterie. Several months later, Pihu, her brother Maulik and an older sister land in Bali's den after their uncle sells them to Bali.
While the older sister escapes the trauma by killing herself, Pihu is subjected to a Hyderabadi business man's gaze, who is keen to marry her. How Suhani helps Pihu and her brother escape from Bali's clutches forms the crux of the tale.
The film may be a realistic portrayal of events, except that it trudges on a convoluted, verbose plot, filled with plot-holes and poor characterisation. The camera work is perfunctorily subjective capturing the claustrophobic ambience, shoddy production values and cardboard-thin characters with all its blemishes.
Amateurishly crafted and lacking finesse in terms of the script and dialogues, the fault also lies in its conceptualisation. It is the writing and direction which are flawed.
Overall, with a nearly two hour run time and with no light moments, the film is painstakingly boring and tedious to watch. "Pakhi" which means bird or flight in reality, is a flightless dodo.