Advertisement

Film: Paltan; Director: J.P. Dutta; Starring: Arjun Rampal, Harshvardhan Rane, Gurmeet Chowdhary; Rating: **…reports Asian Lite News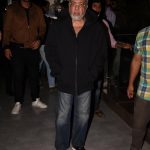 For what seems like an intermittent period of acute stock-taking "Paltan" looks like J.P. Dutta's "LOC Kargil" minus the stars. In LOC, we had the likes of Sanjay Dutt, Saif Ali Khan, Abhishek Bachchan Aand Nagarjuna playing soldier. In "Paltan", it's the likes of Arjun Rampal, Gurmeet Chowdhary and Luv Sinha playing soldier-soldier.
Recession is upon us.
The film is very beautifully shot in a toasted-brown splendor and the background score (by Sanjoy Chowdhary) is effective even when it has to support some of the cheesiest dialogues on valour written outside Doordrashan's "Shaktimaan".
But the songs by Anu Malik are insipid re-hashes of what Malik made in Dutta's "Border". Where are the great J.P. Dutta melodies from his war movies?
And where are those heartstopping moments of patriotic heroism that made "Border" so unforgettable? In sequence after sequence, we see Indian soldiers indulging in juvenile fistfights across the fence (more barbed than the verbal abuse) as though they were fighting for a spot in the school playground rather than land for the country.
The Chinese soldiers are portrayed as buffoons and caricatures. But then that is only to be expected in a film that mistakes border-bashing as patriotism. To his credit, J.P. Dutta manages to make the frames look energized when the soldiers run across the borderline with rifles.
However, repetitive shots of border dispute and territorial skirmish make this war film a tedious watch.
Among the performers, Harshvardhan Rane acts with passion his part of a hotheaded soldier determined to avenge India's humiliating defeat with China in 1962. But to have Rane and Gurmeet Chowdhary take off their shirts merely because they have the physique is akin to triggering off a war just because the troops are ready.
Esha Gupta appears in two shots wearing a white saree. Hard to recognize her fully clothed.
Fine actors like Arjun Rampal and Jackie Shroff struggle to keep the proceedings dignified in the midst of maelstrom of hefty hamming. The actors playing the waiting and wailing family members of the soldiers pull out all stops.
In an early sequence, a postman delivers sobering news of martrydom in house after house in one housing colony. The sounds of wailing are so clocked to seem like recorded messages . The emotions are thus rendered clinical.
The flashbacks are platitudinous to the point of being absurd. In one such romantic flashback Gurmeet Chowdhary's screen beloved nibbles on a large container of gur (jaggery) as he suggests they move into the nearby khet for some serious hanky-panky.
I almost expected the above scene with the gur to merge into pun-filled dig at the 'Chini' (Chinese, also sugar). But it seems no one thought of getting clever at the characters' cost.
It is not their fault if they are in a film that is relevant but ultimately of no consequence to us. We expected J.P. Dutta to tell us why war is not a viable option for India at any given time.
Instead, all we get is repeated shots of the soldier-heroes exercising their soldierly right to be a bully with the neighbours.