Advertisement

Actress Rasika Dugal, known for starring in critically acclaimed movies "Qissa" and "Kshay", says she was so upset with director Rajeev Ravi for deleting a huge chunk of her scenes in his 2016 film "Kammatipaadam" that she chose not to watch it…reports Asian Lite News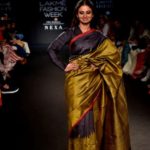 "Kammatipaadam" is her first Malayalam film, but it was certainly not a dream debut as she only had a few scenes with its lead actor Dulquer Salmaan.
"Rajeev had a four-hour film a week before it got released. He had to edit the entire Mumbai section of the film which was quite a huge chunk. Rajeev was my senior at FTII (Film and Television Institute of India). He was extremely apologetic," Rasika told IANS over phone from Mumbai.
"People see the film. Then they ask me why I did such a small part. That is annoying because that was not what I had done. But sometimes things happen. Not everything is in your control.
"A director's cut was to be released. It was a beautiful character and I want to see whether that works or not. I haven't seen the four-hour version. In fact, I haven't seen any version of the film because I was so upset that he cut out my portions."
Even Dulquer was upset.
"He called me and said 'I think this has happened'. Both, Rajeev and Dulquer, were very apologetic. But he couldn't release a four-hour film. Nobody would have gone and watched the film then. Two hours is ideal. It's the business model. So, I understand," said the "P.O.W.- Bandi Yuddh Ke" actress.
Rasika did have a good time shooting.
"I always find it very fascinating to interact with stars because they have such a surreal life which is different than mine and it's so nice to watch them negotiate all these things. It's always a treat to work with a star and Dulquer is a really nice guy. I had a lot of fun hanging out with him," she said.
Despite "not that good" launch in the south film industry, she is willing to take up more regional movies.
"I would love to do Malayalam films because there is so much talent in that film industry. Rajeev is one of the people responsible for the new wave in Malayalam films. So he and a bunch of people work together. They form their own group so that they can survive and that is so nice. I'd really like to be a part of the movement, but my first movie was not that good," said Rasika, who also wants to do Marathi films.
She will be soon seen on the big screen as Safiya — wife of popular Urdu writer Saadat Hasan Manto. While there is abundant information available on the writer, the same can't be said for Safiya.
"Sometimes when there is less information on a character, it makes your job easier because people don't come with a preconceived notion. That pressure is on Nawazuddin Siddiqui (who plays Manto in the film) because people have an idea of the writer.
"But yes, having no information is also difficult. That part of the job was taken care of by Nandita Das (the film's director) beautifully. She spent a lot of time with Manto and Safiya's daughters. Much of the information and anecdotal information were shared with her… stories that family knew about which you can't find in books.
"Therefore, it is priceless. Most of it made its way to the script. When I first read the script, what stood out to me was that… I was familiar with Manto – the writer, but this was the first time that I was getting to know Manto – the person through Safiya and daughters."
And to find out that he was a doting husband and a loving father, it was a very new information for her.
"I had not thought of him like that. I thought of him like a flamboyant man with many muses. I also found two essays in which he mentions her," said the actress.