Advertisement

A little bit of success is a very dangerous thing. It goes straight to the head and distorts all perception of reality. Sunil Grover was noticed on The Kapil Sharma Show. He then got ambitious and decided he could handle his own show which was a flop. He then got into a midair fight with Kapil and broke away letting the press know how he was being relentlessly chased by Kapil to come back to his show…writes Subhash K Jha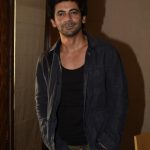 If Grover's new show Kanpur Wale Khuranas is anything to go by, then Kapil Sharma is well rid of the Grover element. The new show not only looks like a sad sorry spillover of Comedy Nights With Kapil it contains jokes about bodily functions which have the 'judge' Farah Khan rolling in laughter.
If a woman is tickled by crassness who are we to complain? But we must keep in mind the fact that many men these get days into trouble for making offcolour jokes before women. Kanpur Wale Khuranas seems to have not heard of the MeToo movement. Grover plays an aging wastrel with several saalis, one of whom played by Asgar Ali appeared in a school dress to ask director Rohit Shetty if he had ever seen a "Maal" as "Gol" as she.
Self-bodyshaming, wow! All for a laugh. Gol Maal hai bhai sab Gol Maal hai!
Ha ha!
Kanpur Wale Khuranas is the worst disservice that could be done to the cause of comedy. It thinks making innuendos about a young woman married to an older man constitutes loads of laughter. So when the woman asks her husband if he had purchased the tamarinds that she had asked him to he retorts he hasn't done anything that would prompt her to eat tamarinds.
Pregnancy jokes jostled with toilet humour in the inaugural episodes of Kanpur Wale Khuranas. In the midst if the bland banal backchat Ranveer Singh tried hard to have fun. Newly married. he could have spent the time wasted on this zero-humour comedy show, just gazing at his wife's beautiful face.
Who needs a new unfunny comedy show whose gags look like out-takes from Comedy Nights With Kapil?