Advertisement

He has choreographed the likes of Shah Rukh Khan, Kajol and Deepika Padukone, but no one matched the talent, aura and charisma of the late Sridevi, says Ranju Varghese who worked with the Hindi film icon for an ad commercial…reports Asian Lite News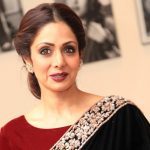 "I worked with Sridevi ma'am a few years ago for a commercial. I was so nervous to choreograph a dancing superstar like her, but she made me so comfortable that all my nervousness vanished in a second. She was a lovely human being.
"The moment the camera turned on, she used to become someone else. Her eyes used to start sparkling and her presence used to create a magical moment on the sets. She was an epitome of talent," Varghese told IANS over phone from Mumbai.
Reminiscing his work experience with the 'Hawa hawaai' girl of Bollywood, Verghese said Sridevi had a great flexibility to transform her body according to different dance steps.
"I have grown up watching her and working with her was one of my biggest achievements. I will never forget her. Not only for me, Sridevi ma'am is a role model of everyone," he added.
Varghese has assisted the popular choreographer duo Bosco-Caesar for 10 years. He considers them his dancing gurus.
"While assisting them (Bosco and Caesar), I learned everything about dance. They made me learn from scratch. They gave me power and experience to execute my dancing skills. They made me understand the depth of choreography and how a choreographer should relate story with dance."
After working as an individual choreographer for over 60 film songs, 15 music videos and numerous advertisements, Varghese is currently being praised for choreographing Kajol in the recreated version of the old Hindi song "Ruk ruk ruk", which originally featured Ajay Devgn and Tabu.
"Kajol ma'am is one in all… She is such a fun loving person. She dances through her expressions and while choreographing her, she made sure I worked on her expressions more as she feels her USP is her expressions," he added.
There was a lot of pressure on Varghese to work on the "Ruk ruk" song well as he believes the audience does not easily accept recreated versions of memorable songs.
"Today, a lot of old songs are being recreated. Many recreated songs came and failed. So we did not want to distort 'Ruk ruk' as it was one of the biggest hits and I wanted to do justice to it. So, there was a lot of pressure on me but Kajol ma'am made the song even more beautiful with her dance steps and expressions."
Asked what's his style of choreographing, he said that before preparing any dance steps for the actors, he observes their body language and tries to understand the meaning of the song.
Varghese will next work for films like "Total Dhamaal" and Riteish Deshmukh-starrer Marathi film "Mauli".