Advertisement

Lakmé Fashion Week (LFW) in association with smartwater, the premium water brand from Coca-Cola India, announced winners of 'The Platform, a programme to identify and mentor upcoming designers. Ishanee Mukherjee and Anirudh Chawla of 'Poochki, Sakshi & Swasti Shah of 'Shanti and Kanika Goyal of 'Kanika Goyal Label will now showcase their collections at the Winter/Festive edition of fashion gala…reports Asian Lite News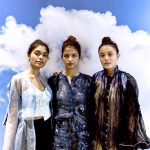 The winners will be mentored by some of the industry's most prominent fashion experts.
'The Platform' saw over 100 applications from across the country, said a statement.
The collections presented by each designer were an interpretation of smartwater's core theme 'Inspired By Clouds', in the form of texture, fabric, shapes or colour. Inspired by the origin story of smartwater, developed on the tenets of innovation, risk taking and forward thinking, 'The Platform' aims to unearth talent that knows no boundaries.
Announcing the winners, Anoop Manohar, GM Marketing, Coca-Cola India said, "We are very encouraged by the wonderful response received by smartwater presents 'The Platform', just in its maiden season.
"This simply reflects the need for such initiatives, to lend the much-needed impetus to the enormously talented new generation of designers – who are fearless and willing to push the boundaries of conventionality. Heartiest congratulations to the 3 winners. We are looking forward to the 'Inspired by Clouds' collection designed by them for the main showcase at the Lakmé Fashion Week this August".
The designers were handpicked by an esteemed panel from diverse backgrounds of the fashion fraternity at a jury meeting that took place, here at Bombay Canteen, Kamla Mills.
The jury comprised Payal Khandwala- designer, Tina Tahiliani – Director, ENSEMBLE, Nonita Kalra – Editor, Harper's Bazaar, Sheetal Mallar – photographer and former model, Anoop Manohar – GM Marketing Coca-Cola India and Jaspreet Chandok – Vice President and Head of Fashion, IMG Reliance.
Jaspreet Chandok, Vice President and Head of Fashion – IMG Reliance, said, "The Platform is yet another step towards Lakmé Fashion Week's continued effort to promote and nurture deserving talent in the Indian fashion industry. After the success of Gen Next which is the launch pad for new designers at Lakmé Fashion Week, we are excited to launch The Platform together with smartwater and encourage designers who excel in design and creativity."