Advertisement

Actress Parineeti Chopra wants more women to speak out about their #MeToo experiences now that Tanushree Dutta has brought the cat out of the bag by naming veteran actor Nana Patekar for allegedly sexually harassing her a decade ago…reports Asian Lite News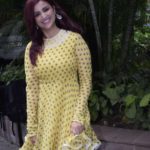 Parineeti spoke at the launch of "Proper patola", a song from her forthcoming film "Namaste England" along with her co-actor Arjun Kapoor and director Vipul Amrutlal Shah here on Wednesday.
Asked whether she feels that Tanushree's outburst is a start of the #MeToo movement in India, Parineeti said: "Honestly, I really hope that it's not a start of #MeToo movement because it will mean that there are a lot more stories like this and I really hope this is first and last story if it is true.
"I really hope this is not the start. Having said that, if there are any victims, especially women in the industry, then I want every woman to come out in the open and speak because if they don't speak now, they will forever be suppressed."
Citing her own example, Parineeti said: "Personally, I have never gone through such an experience, but God forbid, if it would have happened with me, then I would have never kept quiet about it. So, which is why I don't think being quiet is the solution ever.
"This is something serious that has happened to somebody and it's the worst thing that can happen to a woman. If we can't feel protected in our industry and in our country, then how can I do anything? So, I hope this is all untrue and I hope this has not happened, but if it has then we will all support her.
"I really hope this is not a start of #MeToo movement because it will be terrible if there are more stories existing in the film industry."
On his part, Arjun said: "I have two sisters who work in the industry, so as a human being who has sisters, I would want that any woman should feel safe. It happens everywhere and it's a reality and now a woman has come forward to speak the truth. If she is speaking the truth, then definitely she will win."
Arjun said people firstly need to listen to a person.
"The problem in our country is that we start heated debates after a revelation and because of that people fear about speaking the truth. She has revealed something that is so dreadful, so she deserves to be heard before people become judgmental, take sides and point fingers at each other.
"It's a question that has been raised on everybody and it happens in all parts of our country. As human beings, we have to introspect. As men, we have to give equality to women and we have to allow safer working environment to women."