Advertisement

Award-winning Argentine filmmaker Lucrecia Martel says women are so "incredibly over-simplified" in romantic-comedy films that she finds it irritating…reports Asian Lite News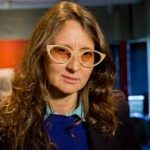 Romantic-comedy movies might be one of the most favourite genres of many. It is certainly not Martel's.
"In reality, it's not like I am against the idea of love. It's the stupid idea about love that I am against… If love fails, then everything else fails in life," Martel told IANS here via an interpreter.
"What bothers me the most about romantic-comedies is that it seems like for women, all that matters is love. That's not true. Women are so incredibly over-simplified in romantic-comedies that I find it irritating," added the winner of Alfred Bauer Award at the Berlin International Film Festival.
She strongly believes that only casting women as protagonists in movies will not change anything.
"It's not that I think that there are too many films made by men or women. It's actually the issue or films that are told from the wrong point of view. There are a lot of films that star women, but don't really show or bring to the surface anything new about women.
"The focal point isn't that the film's protagonist is a woman or not because a film could have a male protagonist and it could still be a very feminist film."
"It's not enough to have a female protagonist. That's not going to change the world or point of view. I also know many female directors who don't have a critical world view. And even if they put a female character as the protagonist, it's not any different from the norm."
The indie filmmaker, whose fillms often get screened at prestigious film festivals like Cannes Film Festival, Venice International Film Festival and Toronto International Film Festival, was here for the recently concluded Jio MAMI 20th Mumbai Film Festival with Star.
"It was such a wonderful coincidence that I was able to come and participate in the festival and also visit this country," said the 51-year-old, who was born in Salta, Argentina.
Be it her debut feature film "La Ciénaga" or "The Headless Woman", the stories of her movies tend to lean towards her home country. She is also working on a documentary about the murder of a member of an indigenous community in Argentina.
"I enjoy visiting new places a lot, but the place that stimulates me the most is my hometown. This is because within my own community, I understand all the different layers. For example here, I find many things fascinating. But it doesn't go beyond that because I don't understand the layers.
"What I find incredible (about Mumbai) is the amount of human effort around me in the city to try to make a life. Everywhere you look, there is human activity. They are trying to sell something or looking for a place to sleep and they are living. It's incredibly full of life," said Martel.
She started directing short films since late 1980s, but has only four feature films to her credit.
"I make things when I have an idea and when I have an idea, sometimes it's long and sometimes it's short. What happens is that I don't have ideas very often," said the filmmaker, who took almost a decade to make "Zama", an Argentine period drama.
During the filming of "Zama", she had undergone cancer treatment.
"Any situation that places you in front of death, even if you don't put effort into it, changes your perspective. Now I am much more concerned with enjoying everyday. And there are many things that I stopped caring about.
"It's not that I cared about it much before, but I care about it even less now — the idea of a career. I have stopped worrying about the things that I make… are they going to impact on or matter to someone as much as I am going enjoy them."
In fact, winning awards or earning the title of "one of the most talented filmmakers in contemporary world cinema" are not a big deal for her.
"Yeah. This is completely true (on getting the title)," she quipped while smiling and fixing her trademark cat-eye glasses.
"No, it's difficult to say that as there are many directors," she said.
Talking about awards, she said: "Of course, it is very pleasant to receive an award and I am very grateful. But it doesn't go beyond being a pleasant moment. While it's a pleasant moment for me, it doesn't tell me much about myself."
Among various things, she would like to design her home from scratch, travel to some places that she hasn't been to and talk to and meet some people she is yet to meet.