Advertisement

It once specialised in Awadhi cuisine. Now, only some of the more popular items remain on the menu as Chef Ashwani Kumar Singh, after extensive research across the country, has given a pan-Indian flavour to the Dilli 32 fine diner at the Leela Ambience Convention Hotel…reports Asian Lite News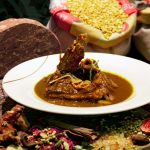 "I have travelled across India, conducted extensive research on Indian cuisine and explored several local ingredients and homegrown flavours; a lot of this research has helped me in curating this new menu.
"The menu is also a collection of delicacies that were appreciated during the numerous festivals that we have hosted at Dilli 32. Before the start of any food festival in the past, I would travel to that region and meet the cooks behind the famous cuisine in that area and learn and imbibed that in my menu here," Chef Ashwani told IANS as he served up a Makhania lassi, a Rajasthani sweet curd flavoured with rose water and topped with saffron. The name comes because of the addition of white butter (fesi makhan) to the lassi.
It went perfectly well with the Bloody Mary that had also appeared at the table with the second appetiser: Ram ladoo — dumplings made of lentil (moong dal) served with green chutney and grated radish — a famous street food sold on the streets of Delhi.
"I can rightly say, the present menu of Dilli 32 represents the true and majestic culinary heritage of Hindustan, covering the princely states of the country," Chef Ashwani added.
In keeping with this, the starters began with Murgh aaftabi boti and Kodi vepudu. The former was a nicely grilled bar-be-que tikka from Awadh and in contrast, the other was fried: kodi meaning chicken and vepudu meaning fried (bhuna), the Andhra preparation served with rice.
That also gave one an opportunity to soak in the ambience, the candlelight decor being the perfect contrast with the al fresco dining almost drowned in a sea of greenery; and an exquisite view of live kitchen coupled with the aroma of Indian spices.
"Would you like a different cocktail," asked the Head Bartender, Aman Kumar, as he offered a Fructa Loca. It packed quite a punch, with 90 ml of vodka, 30 ml each of pineapple juice and orange juice, 15 ml of lemon juice and 10 ml of simple syrup with a walnut-sized chunk of ice in a glass that would otherwise be used to serve a margarita.
"This ice won't melt in a hurry; it will keep your drink chilled and yet not dilute the flavours," explained Food and Beverage Manager Rahul Gauram.
With the mood having been thus set, Chef Ashwani served up another three starters: Barrah kebab, Shikampuri kebab and Prawn koliwada.
The first, as the name implies, is a delicacy from the North West Frontier — sizable and immensely chewable chunks from a goat's leg along with goat chops, marinated in a mixture of yoghurt and malt vinegar along with a mélange of spices and char grilled.
The other kebab, literally meaning "belly-full" comprised mutton patties stuffed with curd and mint and was an offering from the royal kitchen of the Nizam of Hyderabad, while the batter-fried prawns were an offering of Maharashtra's Koli community and not surprisingly, were first prepared by North Indian migrants from Punjab.
Between them, the two kebabs could easily be a meal by themselves with the succulent prawns teasing the tastebuds as the flavours mingled.
The pan-Indian flavour was all too evident in the main course taking in Kashmir, Lucknow, Hyderabad and Jodhpur.
The first up was Roganjosh, a wazwan dish brought to Delhi by Kashmiris. I'm normally reticent about using my fingers when eating outside but this one was too good to resist and the naan was kept quite busy for scooping the food in.
Next up was Mutton nukti — small pieces of mutton. It's a type of Ghutwa or Pateli kebab from Lucknow and adapts itself as a starter dish or as the main course, going with with diffent varieties of Indian breads.
The Murgh ka salan that followed was a delicately flavoured Hyderabadi chicken curry prepared with peanuts, sesame, poppy seed paste with tamarind that left a lingering aftertaste on the palette.
And finally, there was the Desi murgh — a special smoked chicken preparation cooked with Jodhpur's fiery mathania chillies.
Thank god for the second Fructa Loca that had arrived as if by magic.
Vegetarians too would be spoilt for choice but the two dishes that really stood out were Nizami handi — an ajwain-flavoured mixed vegetable preparation in chironji and almond gravy with shredded spinach — and Dal Moradabadi. This was moong dal soaked overnight and cooked in earthenware over a slow flame. The asafoetida, ginger, chillies, dry mango powder and cumin made the flavours quite unparalleled.
One would think this repast would leave very room in the stomach but Chef Ashwani had not one, but two aces up his sleeve: Mirch ka halwa and rabri falooda.
The first was green capsicum with khoya, cardamon and saffron — served warm. The other comprised basil seeds, rice falooda and rabri mixed with strawberry ice cream, rooh afza and nuts.
Rose water in the beginning and rooh afza in the end – what a way to end an evening.