Advertisement

China said it was "happy" to see the maiden "2+2" dialogue between India and the US and hoped the two countries would do more for regional peace and stability in the region…reports Asian Lite News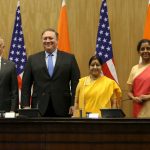 During the talks on Thursday, New Delhi and Washington inked a crucial defence pact and vowed to work for a free and open Indo-Pacific region.
Reacting to the joint pledge by India and the US for inclusive Indo-Pacific, Beijing said it was well entitled to sail into the international waters.
The Chinese Foreign Ministry said Beijing hoped that "parties can do real things to ensure freedom of navigation in the Indo-Pacific region".
"As to the 2+2 consultation between India and the US, we have seen the report. We are happy to see the normal bilateral relations between them. We also hope that in this process they will do more to regional peace and regional stability," Ministry spokesperson Hua Chunying said replying to a question how China viewed the Communications, Compatibility and Security Agreement (Comcasa) between New Delhi and Washington.
India and the US have strategically grown closer to each other in recent years, unsettling Beijing which thinks that Washington is using New Delhi to contain it.
Alarmed by the growing presence of the Chinese Navy in the Indian and Pacific Oceans, the US, India, Japan and Australia have formed a regional grouping, dubbed as "Quad".
The Indo-Pacific featured in 2+2 dialogue on Thursday and both New Delhi and Washington vowed to work for inclusive and open Indo-Pacific.
"You also mentioned about the security issue of navigation in the sea. We uphold the legal rights entitled in the international law and we also that hope parties can do real things to ensure freedom of navigation," Hua added.