Advertisement

The Committee for the Protection of Journalists on Friday called for an end to the United States president's public verbal attacks on journalists, saying many now feel unsafe because of them…reports Asian Lite News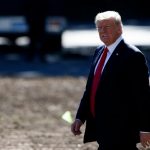 "Journalists across the country feel unsafe because of the constant hostility and belittling of their role in our democracy by the head of state. It needs to stop," said CPJ's deputy executive director Robert Mahoney in a statement, Efe reported.
"It would be reckless and dangerous for President Trump to continue his rhetorical assaults on the press and branding of journalists as enemies of the people" following the spate of package bombs aimed at political figures and CNN, he added.
Authorities arrested César Altieri Sayoc, 56, in his home state of Florida on Friday. He is suspected of sending package bombs to Democrats and ex-leaders, and faces five charges and up to 48 years in prison.
In a speech in Charlotte, North Carolina the same day, Trump praised officials and law enforcement for the arrest, and lambasted the "hostility" of the media, accusing it of using the arrest to "score political points" against him and the Republican party.
Mahoney said "it is clear that some people are influenced by" Trump's speech.