Advertisement

Greek Prime Minister Alexis Tsipras has said his country will hold the parliamentary elections in October 2019 and the ruling coalition of the Radical Left, commonly known as Syriza, will win…reports Asian Lite News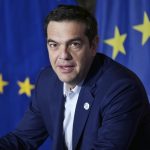 Syriza will also win the European parliamentary elections in May 2019, Tsipras said in an interview with the ALPHA television channel which was broadcast.
He also expressed his certainty that the Prespes Agreement, aimed to resolve the name issue regarding the use of the term Macedonia, will be ratified in the Greek Parliament.
"Everyone down to the last citizen understands that, in spite of the difficulties, in spite of the problems, this agreement is beneficial for the country and especially for northern Greece and Thessaloniki," he said.
"We want Thessaloniki to be the economic centre of the Balkans, but we can't do that by turning our back to our neighbours," Tsipras noted.
He referred also to the proposed deal that the Greek government discussed with the Church of Greece this week in order to remove around 10,000 clergies from the state payroll and to resolve a long-standing property dispute.
"It is a historic step that resolves a pending issue going back decades," he said.
He stressed that since the Orthodox Church priests will be removed from the state's salary rolls, 10,000 new jobs will be created immediately.