Advertisement

US President Donald Trump said a major federal investigation was underway to probe the suspicious packages sent to former President Barack Obama, the Clintons, CNN offices and others…reports Asian Lite News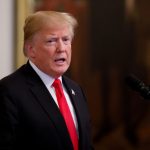 Trump, speaking at an opioids event at the White House, first addressed the series of suspicious packages that have been discovered.
The President did not mention any of the recipients of the packages by name in the remarks but called upon the nation to come together, saying "in these times, we have to unify."
"I just want to tell you that in these times we have to unify, we have to come together and send one very clear, strong, unmistakable message that acts or threats of political violence of any kind have no place in the United States of America," he said.
Trump said "the full weight of our government" is investigating the packages and will "bring those responsible for these despicable acts to justice."
He added: "The safety of the American people is my highest and absolute priority," he said.
"Acts and threats of political violence have no place in the US," he added. "We're extremely angry, upset, unhappy about what we witnessed this morning and we will get to the bottom of it."