Advertisement

Saudi Arabia denounced the US Senate's resolutions to end American military aid for a Riyadh-led war in Yemen and to blame the country's Crown Prince for the murder of Washington Post journalist Jamal Khashoggi…reports Asian Lite News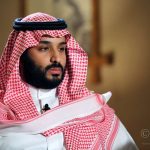 In a statement, the Saudi Foreign Ministry said: "The Kingdom condemns the latest position of the US Senate."
It said that such a position "was built on untrue allegations and affirms a total rejection of any interference in its internal affairs.
"The Kingdom has previously asserted that the murder of Saudi citizen Jamal Khashoggi is a deplorable crime that does not reflect the Kingdom's policy nor its institutions and reaffirms its rejection of any attempts to take the case out of the path of justice in the Kingdom."
The Senate on December 13 voted to recommend ending American military assistance to the Saudi-led operation in Yemen, and accused Saudi Crown Prince Mohammed bin Salman of involvement in Khashoggi's murder.
The vote was the first time any chamber of US Congress had agreed to pull US forces from a military conflict under the 1973 War Powers Act.
Some of President Trump's fellow Republicans defied him to pass the measure with Democrats by 56-41.
The US was yet to publicly respond to the Saudi statement.
Khashoggi was killed on October 2 at the Saudi consulate in Istanbul, Turkey.
Saudi Arabia's public prosecutor has said Khashoggi was killed on the orders of a rogue intelligence officer.
Turkish officials however say they have evidence, including gruesome audio recordings, that the journalist was killed by a team of Saudi agents on orders that came from the highest levels.
His body has not yet been found.