Advertisement

The US President has wrestled back control of the Russia probe by firing Attorney General Jeff Sessions and replacing him with a loyalist who has echoed Donald Trump's complaints about the special counsel investigation into the election interference…reports Asian Lite News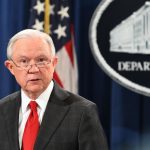 Sessions delivered his resignation letter to the White House on Wednesday at the request of the President. The former Alabama senator who was an early supporter of Trump, made clear the decision to go was not his own.
"Dear Mr President, at your request I am submitting my resignation," he wrote in an undated letter.
Sessions's Chief of Staff Matthew Whitaker, who has criticised the Russia inquiry will take over temporarily, raising questions about the future of the probe led by special counsel Robert Mueller III.
"We thank Attorney General Jeff Sessions for his service, and wish him well!" tweeted Trump. "A permanent replacement will be nominated at a later date."
Till now, Rod J. Rosenstein, the Deputy Attorney General, oversaw the investigation because Sessions recused himself in March 2017, citing his active role in Trump's 2016 presidential campaign.
A Justice Department official said Whitaker's role in the Russia probe will be subject to the normal review process for conflicts, the Washington Post reported.
Democrats were outraged by Session's removal and demanded that Whitaker also remove himself from taking charge of the inquiry, citing potential conflicts of interest, including his criticisms of the Mueller investigation as well as his connections to a witness in that investigation, Sam Clovis, a former Trump campaign aide.
In 2014, Whitaker was the chairman of Clovis' unsuccessful campaign to become Iowa state treasurer.
"Given his previous comments advocating defunding and imposing limitations on the Mueller investigation, Whitaker should recuse himself from its oversight for the duration of his time as acting attorney general," Democratic party Senate leader Chuck Schumer said.
House of Representatives Democratic leader Nancy Pelosi said: "It is impossible to read Sessions' firing as anything other than another blatant attempt by Trump to undermine and end Special Counsel Mueller's investigation."
Former Attorney General Eric Holder, who served during President Barack Obama's administration, tweeted that anyone who tried to interfere with the Mueller investigation "must be held accountable".
On Tuesday, after the voters chose a divided government by handing the House majority back to Democrats, the CNN said Trump made his hallmark — the sort of "I-do-what-feels-right-when-it-feels-right" move — just like it has been over the past three years.
Whitaker could hold the Attorney General's post for roughly 200 days because he has not been confirmed previously by the Senate. He has not shied away from sharing his concerns over the investigation.
In August 2017, he wrote a piece for CNN in which he stated that looking into Trump's personal finances or those of his family, "goes beyond the scope of the appointment of the special counsel".
He went on to call on Rosenstein to "order Mueller to limit the scope of the investigation" or risk the inquiry starting "to look like a political fishing expedition".
Meanwhile, Trump in a wide-ranging and sharp-tongued news conference on Wednesday said that any hope for bipartisan deals would evaporate if House Democrats use their new power to investigate him or his administration.
Such efforts, he said bluntly, would precipitate "a warlike posture".
Democrats said they plan to begin a series of investigations of the President, including issuing a subpoena for his tax returns, which he has for years refused to release.
During his combative conference, Trump repeatedly lost his cool as he answered questions from journalists. He called CNN's Jim Acosta "a rude, terrible person", snapped at Peter Alexander of NBC News and directed April Ryan of American Urban Radio to "sit down".
Later, the White House withdrew the permanent credential from the CNN journalist Acosta for confronting Trump following the mid-term results.