Advertisement

US President Donald Trump has proposed to indefinitely extend the detention period for undocumented migrant children by abandoning a judicial agreement establishing a limit of 20 days after being apprehended…reports Asian Lite News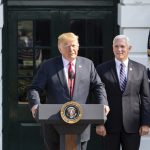 The government initiative would entail ending the so-called Flores Settlement, approved in 1997 and setting a limit of 20 days as the maximum period authorities may detain children entering the country illegally, the Department of Homeland Security (DHS) said in a statement.
The decision seeks to respond to the problems facing the administration as a result of the controversial "zero tolerance" policy pushed by the Justice Department, which had allowed the separation of immigrant families detained at the border with Mexico.
DHS Secretary Kirstjen Nielsen said in the statement that the current protocol – which Trump wants to abandon – allows for "legal loopholes… (that) significantly hinder the department's ability to appropriately detain and promptly remove family units that have no legal basis to remain in the country".
She added that altering the rules would standardise the way in which minors entering the country alone or who are removed from their parents or guardians are treated.
Nielsen claimed that the new rule would allow the federal government to implement the immigration laws as they were approved in Congress, the same argument she had used when the administration started implementing the zero tolerance policy last April.
The government said that abandoning the Flores Settlement is an important step toward regaining control over the country's border.
"It is sickening to see the United States government looking for ways to jail more children for longer," said Omar Jadwat, director of the American Civil Liberties Union's Immigrants' Rights Project.
Although the new rule will be implemented, its legal viability will have to wait to be tested in court.