Advertisement

The White House said on Tuesday that US President Donald Trump earlier on the same day spoke with his South Korean counterpart Moon Jae-in, when they agreed to meet later at the UN General Assembly…reports Asian Lite News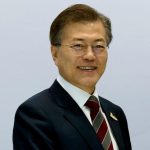 According to a statement issued by the White House press secretary, Trump and Moon "discussed the latest developments on the Korean Peninsula, including our ongoing efforts to achieve the final, fully verified denuclearization of North Korea," which refers to North Korea.
"President Moon briefed the President that he was sending a Special Envoy to Pyongyang tomorrow (September 5) to meet with Chairman Kim, and promised a readout of that meeting," the White House said, adding that the two presidents "agreed to meet later this month on the sidelines of the UN General Assembly in New York."
Last month, US Secretary of State Mike Pompeo said he would travel to Pyongyang "to make further diplomatic progress towards our objective."
However, Trump tweeted a day later that he asked Pompeo to cancel the trip, citing the lack of progress on the peninsula's denuclearization.
Besides the pace and scale of denuclearization, Washington and Pyongyang have disagreed on whether to issue a war-ending declaration.
North Korea has argued that such a document is the first step towards peace on the peninsula, whereas Washington has said it is too early to discuss the topic.
At the conclusion of the historic summit between Trump and Kim Jong Un in June, the two sides issued a joint statement, in which they agreed to improve bilateral relations and work together to build a lasting and stable peace regime on the peninsula.