Advertisement

US Secretary of State Mike Pompeo has said President Donald Trump was prepared to meet North Korean leader Kim Jong-un again…reports Asian Lite News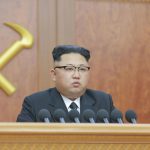 "President Trump very much is prepared to meet with Chairman Kim at the right time, and we hope that'll happen in the not-too-distant future," the top US diplomat told.
The White House revealed over a week ago that it has been coordinating a possible second summit between Trump and Kim after Pyongyang sent a letter to Washington in early September requesting another top-level meeting following the first one in June in Singapore.
"We have to build it out, we have to set up the logistics, we've got to set the right conditions," said Pompeo.
Tension on the Korean Peninsula has been further eased as South Korean President Moon Jae-in paid a historic trip to Pyongyang last week, bonding closer ties with Kim and signing the Pyongyang Declaration on further steps towards the Korean Peninsula's denuclearization.
Welcoming the positive steps on inter-Korean relations, Pompeo announced earlier that he has invited his North Korean counterpart to meet on the sidelines of the UN General Assembly in New York in the following week.
However, differences remain in current North Korea-US talks, including the scale of denuclearization, US sanctions, and whether to issue a war-ending declaration.
The US State Department said on Thursday the denuclearization of Pyongyang has to come first before the US side gives any corresponding reciprocal measures.
The US so far has largely ignored North Korea's request in the Pyongyang Declaration for "corresponding measures" as the precondition for its further actions on the denuclearization, such as the permanent destruction of its main Yongbyon nuclear facility.