Advertisement

President Donald Trump will have a "trilateral meeting" with Japanese Prime Minister Shinzo Abe and Prime Minister Narendra Modi at the G20 summit in the Argentinian capital Buenos Aires, US National Security Adviser John Bolton said…reports Asian Lite News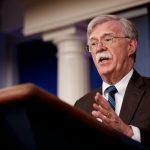 In a press briefing at the White House, Bolton said that Trump's bilateral with Abe "will transform at some point during that meeting into a trilateral meeting" with Prime Minister Modi.
The G20 summit is scheduled for November 30 and December 1.
Trump, however, is not expected to hold a formal bilateral meeting with Saudi Crown Prince Mohammed bin Salman, with Bolton saying that the President's "bilateral schedule is full to overflowing at this point."
However, he did not exclude the possibility of the two leaders' informal meeting
Bolton also said that Trump, during his stay in the South American nation, is expected to meet with the presidents of Argentina, South Korea, Turkey and Russia.
White House spokesperson Sarah Sanders said that Trump's "participation in the G20 summit is a key opportunity to reiterate his commitment to domestic and global economic growth and prosperity, cement relations with other world leaders and advance a global economic system that is based on fair economic competition and free, fair and reciprocal trade."
Speaking of the prospect of the US-Saudi leaders' meeting, Sanders said she would not rule out any interaction, adding that Trump will also meet with German Chancellor Angela Merkel.