Mount Savarkar, a towering tribute to the Freedom Fighter, is located near Batal in the Spiti Valley in Himachal Pradesh ….writes Ragasudha Vinjamuri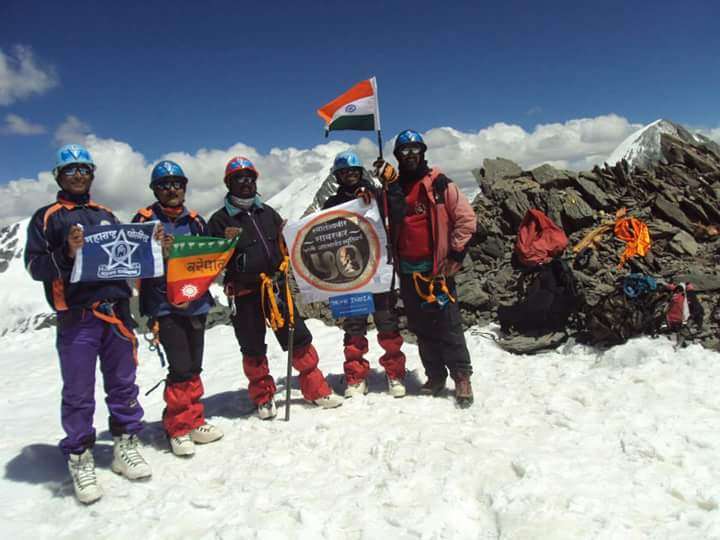 Naming a summit after a freedom fighter has perhaps happened for the first time in history. A powerful idea of "Shikhar Savarkar" mission was conceived by Devendra Gandre, an active mountaineer and trekker in the Sahyadri and the Himalayas. As a homage to the millions of revolutionaries who laid down their lives for achieving Independent India, he has embarked on and developed the idea of climbing a mountain that has never been scaled before, and naming it as Swatantryaveer Savarkar summit.
With the support of the Swatantryaveer Savarkar National Memorial and Indian Mountaineering Institute, he has prepared for the campaign and has successfully searched for an invincible peak in the Himalayas. Subsequently, an anonymous 6060 mts. high peak located near Batal in the Spiti Valley in Himachal Pradesh was selected. It is interesting to note that while many snow-clad mountains were already captured in the area, none perhaps attempted to capture this particular peak because of the inaccessibility and the dangers on the climbing route.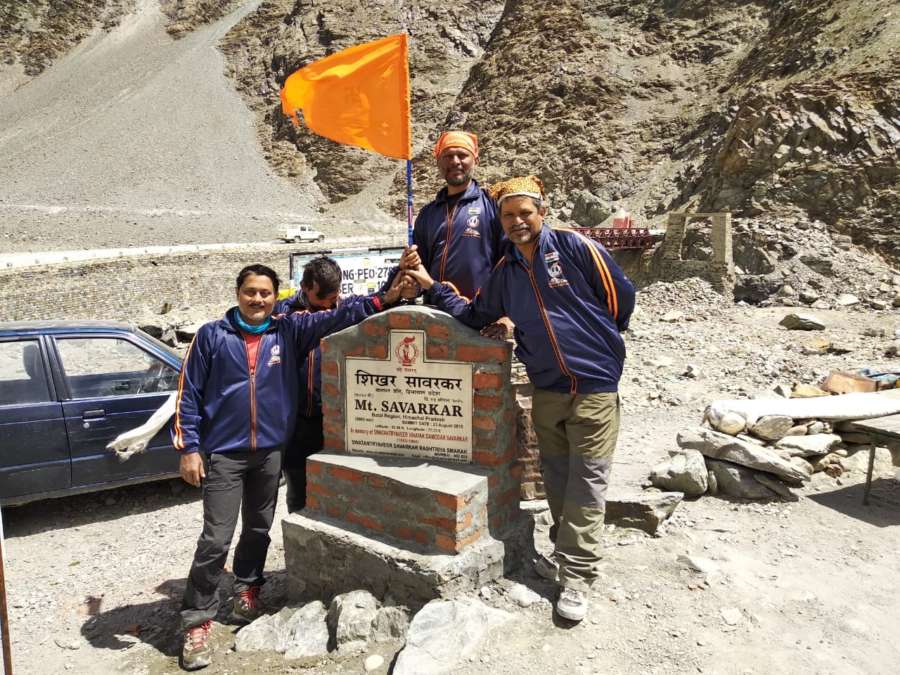 Top mountaineers from different parts of India were then selected, from West Bengal, Karnataka and Maharashtra, with an aim to echo with and spread Savarkar's thoughts wider. The team included Devendra Gandre (Campaign Leader), Anand Shinde (Deputy Director, Mumbai Police), Dilip Sahu (Kolkata), Sandeep Shetty (Karnataka), Rahul Dandave (photographer), Rajendra Varadkar (Team Manager), Shrirang Nadgowda(Base Camp Chief) and Assistant Police Commissioner. An attempt to climb the peak for the very first time was made in August 2015 in extremely dangerous, life-threatening and adverse weather conditions. The flag designed by Savarkar was unfurled at about 5600 mts. which the team could reach.
After three years, on 30 August 2018, once again another expedition was organised which finally reached the zenith of the peak. A plaque was set up marking this milestone in history. This year's team included Raju Patil (Anti-Terrorism Squad), Devendra Gandre, Sandesh Gapat (Coach, Maharashtra Military School, Murbad), Raghav Bhosale (Reliance Energy), Sachin Pawar (Railway Police), Sadhana Chandanshive (Medical Nurse), Aatish Bhadange (Mountaineer Coach, Nagpur) and Deva Ghanekar (Photographer, Pune).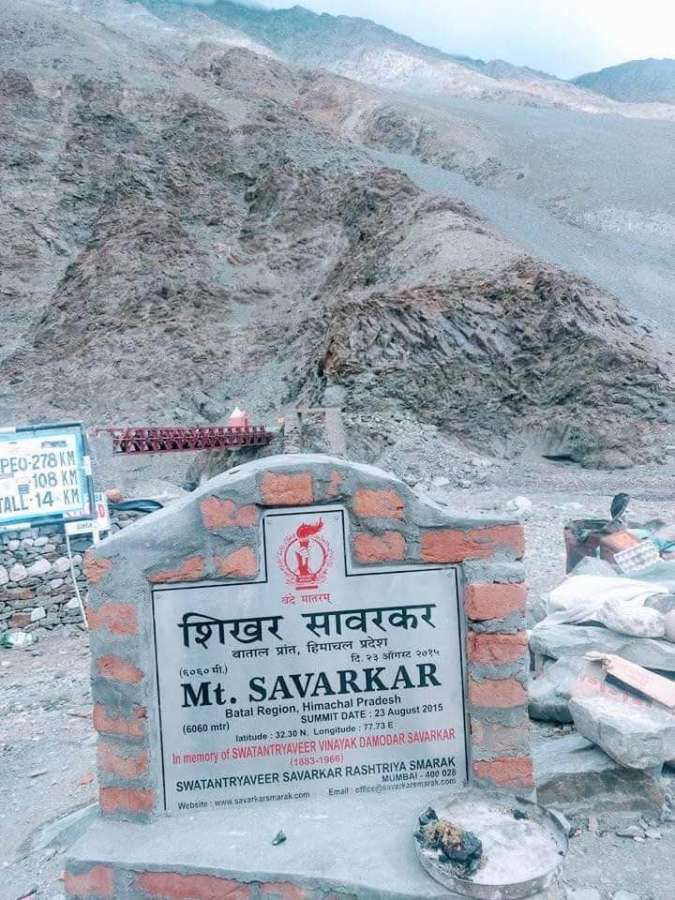 In a world where self-centredness is rampant and personal gains are often sought for gratification, risking own lives to achieve something that would bring greater attention and recognition to a national hero certainly underscores communal passion and commitment. Mount Savarkar shall be a memorable milestone for all Indians, (and more particularly to Maharashtrians) as he is admittedly an icon and the pole star of Independence revolution. Indeed a towering tribute to the visionary.