Advertisement

Shahidul Alam, a prominent Bangladesh photojournalist, accused of criticising his country's government during a television interview was freed from the Dhaka Central Jail, four days after a court granted him bail…reports Asian Lite News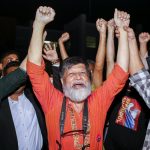 Shahidul Alam was arrested in August, shortly after an interview with Al Jazeera in which he criticized the Bangladeshi government's deadly clampdown on student-led road safety protests.
"Shahidu lAlam was released around 8.30 p.m," Iqbal Kabir Chowdhury, a senior superintendent from Dhaka Central Jail, told Efe. "It took us some time to release him today because of an error in his address. He has been released after it was corrected in due process."
Lawyers, friends, students and well-wishers received Alam at the jail located on the outskirts of the capital.
Alam, 63, was granted bail by Dhaka High Court on November 15, more than three months after he was arrested on charges of spreading anti-government propaganda.
The veteran photographer, whose detention sparked outrage in the country and further afield, was accused of defaming the government and spreading rumours on social media regarding the student-led demonstrations.
Alam was arrested under the controversial Information and Communication Technology Act, widely criticized by journalists and human rights organisations, who say the government uses the law to target dissidents.
On September 19, Bangladesh passed another controversial law, the Digital Security Act, also denounced as a tool for cracking down on freedom of expression.
Alam's work has featured in publications like the New York Times and National Geographic.