Advertisement

The literary space has emerged as one of the major playfields in the run-up to the 2019 general elections as several books vehemently critical of the dispensation under Prime Minister Narendra Modi have been published, or are slated for release in the coming months…reports Asian Lite News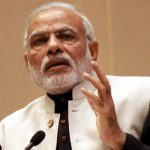 In many ways, Shashi Tharoor's "Why I Am A Hindu", and the ferocity with which senior leaders of the Rashtriya Swayamsevak Sangh (RSS) and Bharatiya Janata Party (BJP) reacted to it, terming the author as a "mental" and a "bad Hindu", encouraged opposition leaders to carve a niche in the culture space. What emerged as a result seems like a well-planned strategy of the opposition to counter Modi's popularity through books and appeal to what many call the "EVs" — enlightened voters.
And then came Kapil Sibal's "Shades of Truth", in which the Harvard law school graduate examined the many actions of the Modi government since 2014, concluding that it "revels in the past without seeking to grapple with the problems of the present and prepare for future challenges".
Publishing insiders say that, apart from exposing the truth behind the government's rhetoric, such "book bombs" also provide opportunities to "speak out loud" against the ruling regime. It was seen at Sibal's launch when former Vice President Hamid Ansari, former Prime Minister Manmohan Singh, and senior opposition leaders P. Chidambaram, Sitaram Yechury, Chandan Mitra and Sharad Yadav together took a dig at the Modi dispensation, claiming that the 2019 general elections will be a "Modi vs India" affair.
These were followed by "The Sarkari Mussalman", by Lt. General Zameer Uddin Shah (retd), who led the Army in quelling the 2002 Gujarat riots. In the memoir, he claimed that there was a delay in deployment of the Army because of which "crucial hours", and "at least 300 lives" were lost.
When looked at in their entirety, these books may have contributed to the changing narrative in the country, as pointed out by surveys like the "Lokniti-CSDS-ABP Mood of the Nation", which found the BJP and Modi losing popularity at an alarming rate.
Even if the past is to be left behind, the Modi government has quite a few salvos coming its way as new books by Shashi Tharoor, Salman Khurshid, Omar Abdullah, Manmohan Singh, former Chief Economic Advisor Arvind Subramanian and former RBI governor Raghuram Rajan, along with some major surprises, are all set to release, one after the other, before April 2019.
Tharoor will go personal, for the first time, in "The Paradoxical Prime Minister", divided into five sections and comprising 50 chapters on Modi. "Economics for Political Change: The Collected Works of Manmohan Singh" documents the evolution of his thought over more than half-a-century as an academic, policymaker and politician.
Manish Tewari's "My Ministerial Years" will tell the story of the struggle to string together a narrative "as the UPA (United Progressive Alliance) government in its second term faced a barrage of both unwarranted and, more often than not, motivated criticism from an extremely belligerent media driven by corporate imperatives".
Omar Abdullah's upcoming book, his first, is billed as "one of the most important books" about the beautiful and troubled state "that was born in fire and blood".
"The Idea of India" by Salman Khurshid, is a compendium of what constitutes India's past, present and future, "an exhaustive account of what India truly stands for". Another book by Khurshid, "The Indian Muslims", will also release before the elections.
In "Of Counsel: The Challenges of the Modi-Jaitley Economy", Subramanian will open up about his tenure, which saw the controversial demonetisation of high-value currency notes and the introduction of the Goods and Services Tax (GST). And then there is Subramanian Swamy, who never fails to surprise, and those in the know of business say that he will do so again in "India's Economic Performance And Future Projections". Rajan will pen another book after "I Do What I Do", also slated to release before the elections.
Tharoor, with his massive fan following on social media, will also star in a Web Series releasing in 2019 and based on his "Why I Am A Hindu", urging the viewers to reclaim Hinduism from the "Hindutva Wadis".
Along with these are some major upcoming surprise releases, the "book bombs" in the true sense. Everything about them, including the authors' names and the "explosive subjects" of their books, leading publishers said, will be revealed just prior to their publication.
Notably, PEN International released a report last month titled "India: Pursuing Truth in the Face of Intolerance" that outlines how dissenting voices — of journalists, writers, academics or students — "face intimidation, harassment, prosecution, online abuse, and physical violence". The 15-page report is highly critical of the Modi government and opens with a poster of the firebrand journalist-activist Gauri Lankesh.
It said that India has witnessed "a rising tide of violence, impunity, extended pre-trial detentions, and surveillance" and called upon the Indian authorities to safeguard freedom of expression in the country.
PEN International President Jennifer Clement told IANS that it is going to be vigilant about any instance of coercion that writers and journalists may face. The international writers' body elected two dissenting voices from India, Tamil writer Perumal Murugan and multiple award winning Nayantara Sahgal, among its three new Vice Presidents.