Advertisement

Rather than paying reparations for the Raj's exploitation of India, Britain must acknowledge the evil legacy of its colonialism and teach its people, according to Congress MP and author Shashi Tharoor…reports Asian Lite News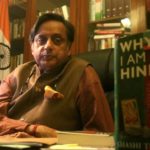 "History has moved on," Tharoor said when asked about reparations during his session at the JLF@New York, an edition of the Jaipur Literary Festival.
"How do you quantify the deaths of 35 million people from famines, the generations lost to indentured labour and the colonial loot?" he asked.
There could be a symbolic reparation of 1 pound a year paid for 200 years, but it was more important that there was a "learning" of colonialism's real history and impact by the British, especially the youth who sometimes had dreams of a resurgent empire.
Museums in Britain were "chor bazaars" (thieves markets) of exhibits looted from the colonies and while there was an Imperial War Museum, there wasn't a museum of imperialism, he mused.
Tharoor is the author of "Inglorious Empire: What the British Did to India", which lays out the depredations of the Raj and its legacies. It was a bestseller in both India and Britain.