Advertisement

The death toll from the destructive wildfires have reached 80, with 993 people still unaccounted for, authorities said…reports Asian Lite News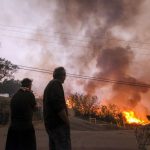 As of Sunday evening, there were 77 deaths and 9,700 homes destroyed as a result of the 149,000-acre Camp Fire in Northern California, which started on November 8, according to the Butte County Sheriff's Office.
A second blaze in Southern California called the Woolsey Fire started northwest of Los Angeles also on November 8, has killed at least three people with more than 96,000 acres torched, CNN reported.
According to Cal Fire, the state's forestry and fire protection agency, the Woolsey Fire was now 88 per cent contained
But Cal Fire said that Camp Fire was only 65 per cent contained as of Sunday evening and won't be fully doused until November 30.
Hundreds of deputies, National Guard troops, coroners and anthropologists were sifting through levelled homes and mangled cars for remains.
Officials said the death toll from Camp Fire, the deadliest and most destructive wildfire in California history, could keep rising.