Advertisement

China said it hoped the Maldives will think before scraping the Free Trade Agreement (FTA) with it after an influential leader of the island nation said his country will pull out of it as the deal was blindly pro-Beijing…reports Asian Lite News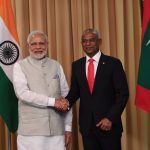 Beijing also sought to put a brave face in the light of the Maldives' new President Ibrahim Solih's decision to review the Chinese investments made during the presidency of pro-China leader Abdullah Yameen.
The Chinese Foreign Ministry evaded a question whether Beijing felt the new Maldivian government was steering the country back towards India after being close to Beijing under Yameen.
"China-Maldives FTA is based upon the friendly and equal consultations of the two sides. The early implementation of the agreement will deliver benefits to the two sides at an early date. We believe the Maldives government will make the right choice in this regard," spokesperson GengShuang said.
Mohamed Nasheed, a top leader of the governing alliance of the country, said that the FTA with China, signed last year under Yameen's rule, was unfortunate and one-sided and Male would pull out of it.
The Maldives, under Yameen who was ousted by Solih in elections this year, had signed the FTA with China, becoming the only second nation to strike such a deal after Pakistan.
The deal, opposed by Solih's party, had raised eyebrows in India and other countries. It was rushed through without any debate in the Maldivian parliament.
Yameen is said to have given away lot of infrastructure projects to the Chinese companies, racking up huge debts. Male drifted towards Beijing under Yameen, who openly showed his backing for China.
The new government is reportedly worried over the Chinese debt the country has run up during Yameen's presidency and thinks it's the time for course correction.
It says it will review all Chinese projects in the country.
Asked about the Solih's decision, Geng said: "I am not aware of the details mentioned by you just now.
"According to my information, not long back President Xi Jinping's special envoy and Minister of Culture and Tourism Luo Shugang attended the inauguration of President Solih and he had a meeting with him as well.
"In the meeting, President Solih said that the new Maldives government attaches importance to and is committed to deepening relations with China and is willing to deepen practical cooperation and adding a new dimension to the bilateral ties.
"President Solih also said that China offers the most economic development assistance to the Maldives. The China-Maldives friendship bridge has been put into operation. This has facilities the travel of commuters and brought benefits to the Maldives. The Maldives welcomes more Chines enterprises to invest in the Maldives.
"I think such kind of comments by (President Solih) reflect the current situation and the significance of China-Maldives practical cooperation."
Asked if Beijing was worried over Male leaning towards India, Geng said: "As for the former President and the current President or about their foreign policy, you should ask the Maldives government. China is committed to deepening our mutually beneficial cooperation and our will to maintain good relations with the Maldives is firm."