Advertisement

Chinese President Xi Jinping held talks with visiting Cuban President Miguel Diaz-Canel, calling on the two countries to cherish and write a new chapter in their traditional friendship…reports Asian Lite News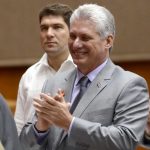 During their talks, Xi pledged that China would continue to support Cuba where possible, calling it a "great and remarkable country" that had overcome obstacles to chart its own path
The two leaders met at the colossal Great Hall of the People, where they reviewed Chinese troops in a welcome ceremony.
Diaz-Canel, who began his three-day visit to China on Tuesday, also held a meeting with Chinese Premier Li Keqiang with the aim of consolidating bilateral ties, according to Efe news.
Diaz-Canel told Li that he wished for the new generations of Chinese and Cubans to continue to consolidate ties between their countries, according to a tweet by the Cuban Foreign Ministry.
Earlier, Diaz-Canel met the chairman of the standing committee of the National People's Congress, Li Zhanshu, and expressed his respect, admiration and love for the people of China.
The Cuban leader had also met Chinese Vice Premier Wang Yang.
In 1960, Cuba became the first Latin American country to establish diplomatic ties with the People's Republic of China, which formally came into being in 1949.
China has traditionally supported Cuba in international forums such as the UN, where it has called for the lifting of the US' embargo against the Caribbean country.
In 2017, trade between the two nations was valued at around $2 billion.