Advertisement

The UN High Commissioner for Refugees (UNHCR) has warned that the condition was not safe for the repatriation of Rohingya refugees to Myanmar from Bangladesh, even as the two countries were preparing for the return process, set to start later this week…reports Asian Lite News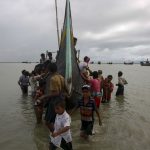 The two governments on November 15 agreed on repatriation of 2,251 of around 723,000 Rohingya refugees living in Bangladesh camps, in the first part of a phased process.
"Although UNHCR does not believe current conditions in Rakhine state are conducive to the voluntary, safe, dignified and sustainable return of refugees from Bangladesh, we remain committed to supporting the government of Myanmar's efforts to create such conditions," the refugee agency said in a statement.
The Human Rights Watch also criticised Myanmar's de facto leader Aung San Suu Kyi over the forced return of the Rohingya.
"Aung San Suu Kyi wants to convince her Asean neighbours that it's safe to force Rohingya refugees back to Myanmar despite not having given them citizenship or freedom to travel or even admitting that the army chased them out with mass murder, rape & arson," HRW Executive Director Kenneth Roth tweeted.
Myanmar authorities have constructed a number of receiving centres in Rakhine state, from where the Rohingya fled last year after a military campaign, described by the UN as "ethnic cleansing" with elements of genocide.
The UNHCR said Myanmar authorities should allow refugees to assess the conditions in Rakhine themselves before taking the decision on their return.
The start of the repatriation process was announced on October 30, almost a year after the two countries signed an agreement on November 23, 2017.
More than 1 million Rohingya, a minority Muslim community which the UNHCR considers stateless, have fled Myanmar in different waves of migration since the end of the 20th century.
The latest exodus began on August 25, 2017 when a Rohingya rebel group launched a series of attacks on government posts in Rakhine and the military launched a retaliatory campaign, forcing around 723,000 Rohingya to flee to Bangladesh.
Myanmar has rejected UN reports over the alleged atrocities committed by the military. The government classifies them as illegal Bangladeshi immigrants, denying them citizenship and imposing a number of restrictions, including limits on their freedom of movement.