Advertisement

Food Processing Industries Minister Harsimrat Kaur Badal has exhorted the French food processing companies to significantly enhance their engagement with the Indian market…reports Asian Lite News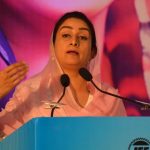 "The French have one of the world's most renowned food processing industries and India has the fastest growing food and retail market in the world. Hence, it would be natural for the two to work together intensively.
However, we find that some other countries have been much more aggressive in the Indian market and are taking the lead, while the French remain rather limited in their footprint in India," Badal told the Media India Group in an interview at SIAL in Paris, soon after having inaugurated, along with her French counterpart, what's touted as the world's largest food processing fair.
"India presents a unique opportunity in the food processing and retail domain. Food constitutes a very large share of the total retail market, which itself is set to treble in the coming few years.
"As the disposable income increases, an average Indian family will spend even more on food and hence will open up a large and untapped market," Badal said, adding that while many other countries had spotted the opportunities and were stepping up their investments in India, this was not the case with the French companies.
"Of course, the French enjoy a high reputation in this industry and they have a lot of know-how and technology to share with Indian companies. However, the cooperation remains far from achieving its true potential and it is a pity because the moment of doing business with India is here and now," Badal maintained.
Looking back at over four years of her work in the food processing ministry, Badal said that there had been a sea change in all segments – from the number of mega food parks and related infrastructure on the ground to the foreign direct investment as well as ease of doing business, besides a very healthy growth in both the food and retail business in India.
"There are a few more initiatives that I want to complete in this term of the government so that we can set the foundation for a much more rapid and indeed smooth development of the sector after the elections next year," Badal said.
During her third visit to the biannual SIAL, Badal also held bilateral discussions with the French Agriculture Minister and the two touched upon the issues of enhancing French investments in India, while the French minister raised the question of Indian government's subsidies to Indian sugar farmers, touching an issue that is politically highly sensitive both for the EU and for India.
The major sugar exporters of the world initiated action against India, Pakistan and the EU for alleged trade distorting export subsidies provided by the three governments to their sugar exporters. Incidentally, Indian sugar exports to the EU collapsed by nearly 70 per cent in 2017, while the EU sugar and related exports increased in the same period.
During her visit to Paris, Badal has also met with leaders of various French food companies to discuss their investment plans in India.